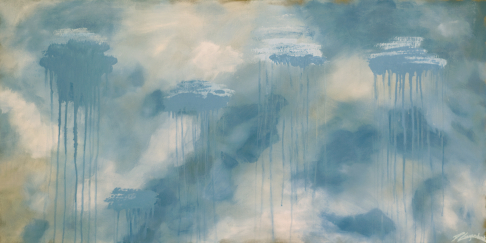 Art Impressions
Singing in the Rain
I wanted to try a technique new to me which is dripping paint down a canvas. It may sound easy but took a while to get the effects that I was looking for. It turned out even better than I expected! I love experimenting and do it often so I am looking forward to doing this again.
Acrylics on gallery wrapped canvas with texture medium
24" x 48"
Shipping cost: $100.00

I am a native New Orleanian with a passion for our city, our culture and the creative freedom it allows. My abstract art is a way of translating and capturing emotion into a visual medium that stirs the senses and moves the viewer. The beauty of abstract art is that the interpretation is left to the eye of the viewer. I marvel at the fact that there are as many diverse interpretations as there are viewers! I create movement or stillness by using various techniques such as textures, layers, or touches of metallic finishes. I enjoy the experience of creating art and interacting with the art community and patrons.
I am a New Orleans artist living and working in the Northshore area.
NORTH SHORE
Meet the Artists
Local art is the lifeblood of our culture and communities. We source work from hundreds of painters, muralists, sculptors, metal workers, printmakers, illustrators, photographers, and textile artists, every one of whom is part of your local community.

Create your Account
With an account you can save favorite works, create collections, send messages to artists, store your shipping info, and more
---
Already a member? Sign in here

;