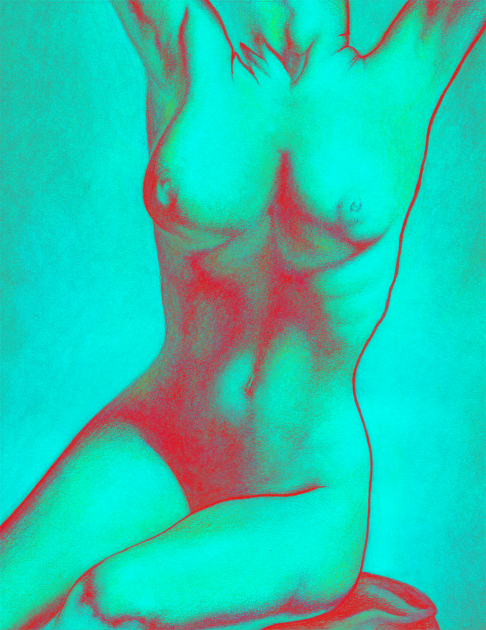 Solarized Nude Fine Art Prints
2021
These prints are of an original drawing based on a solarized gelatin silver print from 1938. 
Graphite and colored pencil. 
20" x 16"
Shipping cost: $6.00

My life path has taken me through living in several states across the US, pursuing a career in industrial design, and creating a line of home textiles in NYC until finally landing in New Orleans in 2016 and returning in earnest to my lifelong practice of creating art. Being a multifaceted creative and innately curious person brings diverse inspiration and techniques to my work: inspiration comes in from traditional portraiture and religious icons, geometric patterns, folk art and voodoo culture. By adding to traditional techniques and mediums with assemblage of mundane objects like construction nails, beads, and hardware, I create work that explores themes of identity, mysticism and symbolism. Using wood as a substrate is a logical choice based on a lifetime of woodworking, but I also appreciate the random, natural knots and texture as an integral layer of visual interest in each piece. 
NEW ORLEANS
Meet the Artists
Local art is the lifeblood of our culture and communities. We source work from hundreds of painters, muralists, sculptors, metal workers, printmakers, illustrators, photographers, and textile artists, every one of whom is part of your local community.

Create your Account
With an account you can save favorite works, create collections, send messages to artists, store your shipping info, and more
---
Already a member? Sign in here

;