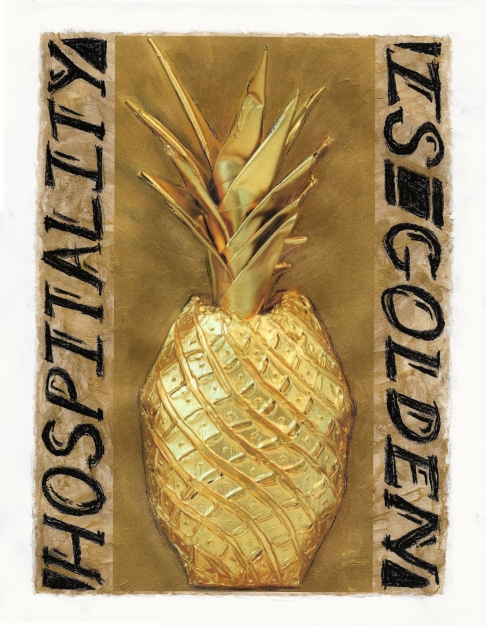 Golden Hospitality Print
2016
Hospitality is golden! Based on the sculptural Pineapple Series, these beautiful archival photo prints encapsulate the joy of the pineapple and the essence of hospitality in stunning gold and black design. All print options fit standard frame sizes--I think a plain white frame looks amazing with them!
Archival Photo Print of Mixed-Media Work
14" x 11" (Unframed)
Shipping cost: $2.00

I was born and raised in New Orleans, and at a young age I took interest in local art and culture. Leaving behind engineering scholarships at 19 to fully pursue my art interests, I soon booked my first exhibit in New Orleans showing colored-pencil sketches based on studies of Degas' dancers.
After these Degas' studies and many others of great artists, I began pursuing a new, self-taught method that formed into the sculptural-painting and collage techniques I use today. My works using these techniques have been shown in New York, New Orleans, and Oklahoma City galleries.
NEW ORLEANS
Meet the Artists
Local art is the lifeblood of our culture and communities. We source work from hundreds of painters, muralists, sculptors, metal workers, printmakers, illustrators, photographers, and textile artists, every one of whom is part of your local community.

Create your Account
With an account you can save favorite works, create collections, send messages to artists, store your shipping info, and more
---
Already a member? Sign in here

;