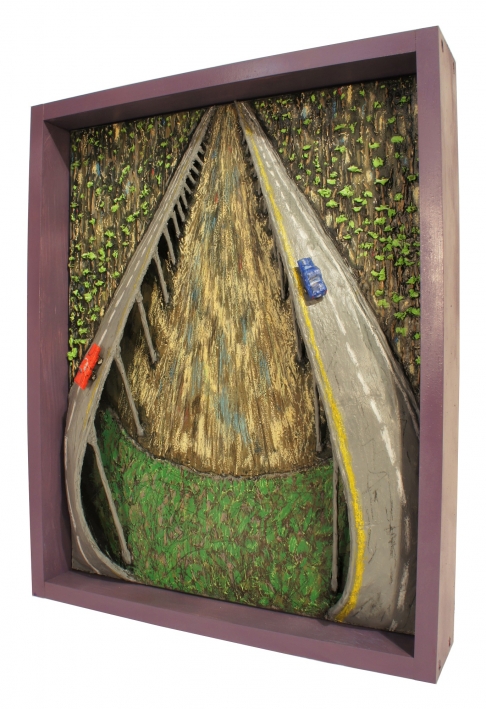 On the Way to Baton Rouge
2015
"On the Way to Baton Rouge" continues my interest in--possible obsession with--overpasses, street lines, and other sculptures and designs embedded in our urban landscape. Over the Atchafalaya Basin on the I-10, when heading to Baton Rouge from the west, there is a spot that looks like this. For me it brings back the few years I lived in Houston but was constantly driving home to New Orleans; when I saw this I knew I was getting close to home. The structure of the highways feels both human and plant-like, organic at it's deepest layers. The deep richness of the water makes the greens sing just like when you drive over this part of the I-10, making this a captivating work to hang in any space.
Latex & Acrylic Substances, Wire, Acrylic Paint, Pastel, Wood, Canvas
22" x 18" x 5"
Shipping cost: $30.00

I was born and raised in New Orleans, and at a young age I took interest in local art and culture. Leaving behind engineering scholarships at 19 to fully pursue my art interests, I soon booked my first exhibit in New Orleans showing colored-pencil sketches based on studies of Degas' dancers.
After these Degas' studies and many others of great artists, I began pursuing a new, self-taught method that formed into the sculptural-painting and collage techniques I use today. My works using these techniques have been shown in New York, New Orleans, and Oklahoma City galleries.
NEW ORLEANS
Meet the Artists
Local art is the lifeblood of our culture and communities. We source work from hundreds of painters, muralists, sculptors, metal workers, printmakers, illustrators, photographers, and textile artists, every one of whom is part of your local community.

Create your Account
With an account you can save favorite works, create collections, send messages to artists, store your shipping info, and more
---
Already a member? Sign in here

;