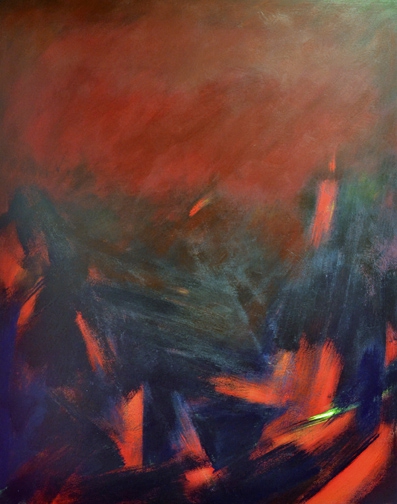 "Way Down in the Hole" Homage to Tom Waits
2014
Thomas Alan "Tom" Waits (born December 7, 1949) is an American singer-songwriter, composer, and actor. Waits has a distinctive voice, described by critic Daniel Durchholz as sounding "like it was soaked in a vat of bourbon, left hanging in the smokehouse for a few months, and then taken outside and run over with a car." With this trademark growl, his incorporation of pre-rock music styles such as blues, jazz, and vaudeville, and experimental tendencies verging on industrial music[2]. Waits has built up a distinctive musical persona. He has worked as a composer for movies and musical plays and has acted in supporting roles in films, including Paradise Alley and Bram Stoker's Dracula; he also starred in Jim Jarmusch's 1986 film 'Down by Law.' He was nominated for an Academy Award for his soundtrack work on One from the Heart.
Acrylic on canvas
60" x 48"
Shipping cost: $200.00

I call my art "Composing with Color". Everyone hears music differently. The way we perceive art is shaped by our taste and by emotions, situations, and personalities. My canvas is the manuscript on which the notes are painted. I have attempted to have music take on physical colors as it travels through air. My ideal vision would be to create a world in colors as Thelonious Monk created a world of sound.
I am a graduate of The Pennsylvania Academy of the Fine Arts in Philadelphia, PA. I have had solo exhibitions in New Orleans, Los Angeles, Miami and Frankfurt, Germany. I have received a grant from the prestigious Pollock-Krasner Foundation and the Artist Fellowship Inc, New York, NY.
George McClements is a New Orleans artist living and working in the Bywater neighborhood.
BYWATER
Meet the Artists
Local art is the lifeblood of our culture and communities. We source work from hundreds of painters, muralists, sculptors, metal workers, printmakers, illustrators, photographers, and textile artists, every one of whom is part of your local community.

Create your Account
With an account you can save favorite works, create collections, send messages to artists, store your shipping info, and more
---
Already a member? Sign in here

;