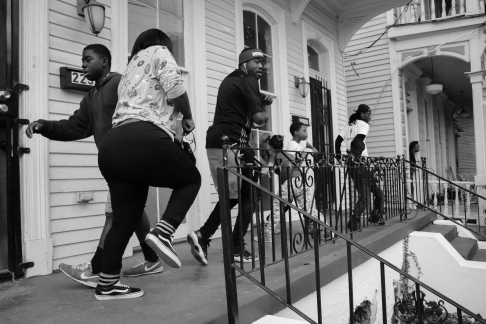 Front Porch Dance Party
2017
If you live on a second line route and you have a front porch, you are at risk of having 3 to 10 cute and skilled kids dancing their hearts out on it. You will be overwhelmed with the kind of joy that only unity can bring. A moving dance party it's a beautiful site.
Pigment print on Harman by Hahne Muhle "Gloss Baryta", 320gsm
8x10
Shipping cost: $10.00

My name is Jamell Tate; I am a photographer who was born and raised in New Orleans. I love this city so much, and it has so many beautiful, wonderful and ugly moments, and I felt like the best way to document some of those moments was to capture them and freeze them in time literally. Here you will find everything from street musicians and second lines to weekly floods and 18th-century Spanish architecture.
NEW ORLEANS
Meet the Artists
Local art is the lifeblood of our culture and communities. We source work from hundreds of painters, muralists, sculptors, metal workers, printmakers, illustrators, photographers, and textile artists, every one of whom is part of your local community.

Create your Account
With an account you can save favorite works, create collections, send messages to artists, store your shipping info, and more
---
Already a member? Sign in here

;