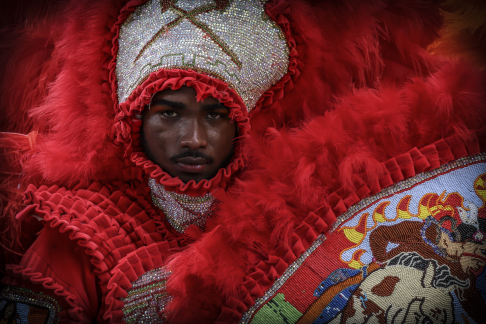 Spy Boy Shaudy
2018
Shaudy is the Spy Boy for the Young Seminole Hunters, they are one of the few tribes that hail from the lower ninth ward. This photo is the first time I met him, we've developed a working relationship and friendship since then. We've also had 1 on 1 private shoot, but this photo will always be my favorite. It was taken underneath the Claiborne overpass on Mardi Gras day in the middle of everything. Hundreds of people, dozens of Indians prepared for battle and excited to show off all their hard work. Shaudy stood his ground when a flag boy from another tribe wanted to approach his Big Chief.
Color archival pigment prints on Harman by Hahnemuhle "Gloss Baryta", 320 gsm
8x10
Shipping cost: $10.00

My name is Jamell Tate; I am a photographer who was born and raised in New Orleans. I love this city so much, and it has so many beautiful, wonderful and ugly moments, and I felt like the best way to document some of those moments was to capture them and freeze them in time literally. Here you will find everything from street musicians and second lines to weekly floods and 18th-century Spanish architecture.
NEW ORLEANS
Meet the Artists
Local art is the lifeblood of our culture and communities. We source work from hundreds of painters, muralists, sculptors, metal workers, printmakers, illustrators, photographers, and textile artists, every one of whom is part of your local community.

Create your Account
With an account you can save favorite works, create collections, send messages to artists, store your shipping info, and more
---
Already a member? Sign in here

;