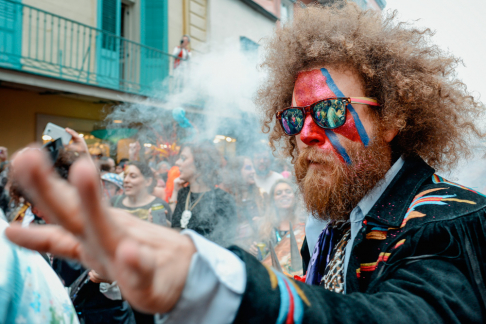 lazarus
2016
Part eleven of the DISCONNECTED series.
Bowie Second Line, New Orleans French Quarter, 2016
Fine Art digital photograph on archival photo paper.
The print size is 13" x 19". The image size is 12" x 18" with a 1/2" border.
Shipping cost: $35.00

I was born and raised New Orleans. Early on, I was heavily inspired by my dad, an avid street and portrait photographer. He taught me about light and composition. He also taught me the value of patience and to do whatever it takes to get the shot.
I went on to attend Ben Franklin High School and studied photography at Louisiana State University. My work has appeared in Tulane Medical Magazine, 2016-2017, as well as A Day in the World [2012] and its traveling exhibition, 2012-2013, Kulturhuset - Stockholm, Sweden, Världskulturmuseet - Gothenburg, Sweden, Dunkers Kulturhus - Helsingborg, Sweden, History Museum of Bosnia and Hercegovina - Sarajevo, Bosnia and Hercegovina; and Dag Hammarskjöld Plaza - New York City, NY. Photography exhibitions also include Contemporary Antiques, 2012 - 2013, in New Orleans, LA, and Louisiana Culture Exhibition, 2014, at the Multimedia Art Museum, Moscow House of Photography - Moscow, Russia.
JEFFERSON
Meet the Artists
Local art is the lifeblood of our culture and communities. We source work from hundreds of painters, muralists, sculptors, metal workers, printmakers, illustrators, photographers, and textile artists, every one of whom is part of your local community.

Create your Account
With an account you can save favorite works, create collections, send messages to artists, store your shipping info, and more
---
Already a member? Sign in here

;