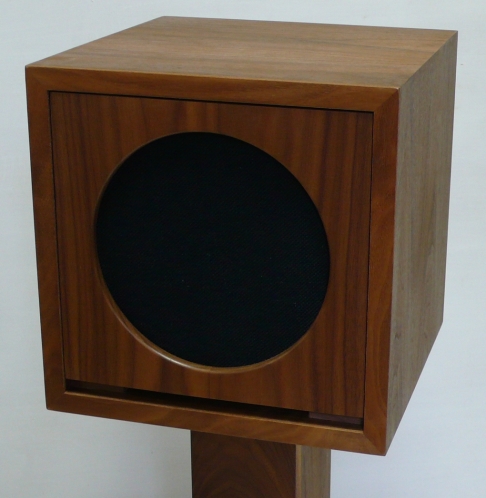 Audiowood
Audiowood El Boxo Dos Speakers
2016
The El Boxo Dos speakers are designed as modern speakers with a bit of a mid-century feel. These are substantial speakers that use a very high-quality coaxial driver made by Seas of Norway. Because of the coaxial design, these speakers image extremely well, produce a great soundstage, and produce a substantial low end, allowing them to be used without a subwoofer. These El Boxos are without a doubt audiophile speakers, but they are ideally suited for those looking for speakers that can rock out in addition to offering high-fidelity reproduction of quality recordings. That is to say, the Dos speakers are not quite as precise in audiophile terms as the El Boxo Unos, but in exchange, they are more forgiving when it comes to poorly recorded music. The Dos speakers are astoundingly great speakers for those whose tastes run towards punk, rock, and hip hop, but they perform very well with all sorts of music. Construction is walnut veneered MDF and solid walnut, finished with hand-rubbed varnish and paste wax. They are large cubes of 11.5". Audiowood speakers are custom made to order in about 3-4 weeks. Audiowood speakers come with a 2-year warranty against defects in manufacture and assembly. Warranty does not cover damage to drivers based on misuse. Driver: SEAS Prestige T18REX/XFC (H1353) 7" Coaxial Specifications per Seas: 8 ohm impedance 87dB sensitivity Frequency response: 46Hz (@-3dB) to 25kHz, front ported Power handling: 80W Long Term, 250W Short Term Price is per pair. Free shipping in the Continental US, $100 to AK, HI and Canada, $200 international. Please select one option. International customers are responsible for any customs charges levied by your home country.
MDF, Walnut
11.5" x 11.5" x 11.5"
Shipping cost: $0.00

I'm a designer and woodworker.
I was born and raised in suburban Florida. After high school I got as far away from malls and subdivisions as possible, studying the arts - visual art, design, architecture, literature, aesthetic theory - in Western New York, New York City, and Europe. I almost became an architect, almost became a professional academic, and almost became a non-profit civil rights worker. I earned degrees in Art History and English (BA, Hobart), English (MA, Carnegie Mellon), and Media Studies (Ph.D., Pitt). Somewhere along the way, the desire to make things with my hands took over, and I shifted away from academic issues towards the production of physical objects.
Since 1997 I've worked consistently as a design and build carpenter/woodworker. In 2008 I started building handmade audio equipment, which I make under the name Audiowood.
I think of most of my works as small acts of architecture: things that stand on their own, and that suggest an entire way of living. I picture each of my products standing alone in a big, all-white loft in New York City; woody, but not necessarily woodsy.
Since 2008, I've had the privilege of working with clients like Anthropologie, Bushmills, Paramount Pictures, and various A-List celebrities.  Audiowood products have been featured in dozens of major international publications like The New York Times, Wired (Germany), California Home and Design, and Velvet (Italy), and online from Gizmodo to DesignBoom to Metal and dozens of other blogs.  Locally, I was named a "Person to Watch" by New Orleans Magazine, was awarded the "Most Unique Work" award in Contemporary Crafts at the 2015 and 2018 New Orleans Jazz and Heritage Festival, and most recently, won "Best in Show" at the Green Project's Salvations show of furniture made from reclaimed materials.  
I've lived in the Lower 9th Ward and the 7th Ward, and currently live in the Lower Garden District.
HOLY CROSS
Meet the Artists
Local art is the lifeblood of our culture and communities. We source work from hundreds of painters, muralists, sculptors, metal workers, printmakers, illustrators, photographers, and textile artists, every one of whom is part of your local community.

Create your Account
With an account you can save favorite works, create collections, send messages to artists, store your shipping info, and more
---
Already a member? Sign in here

;