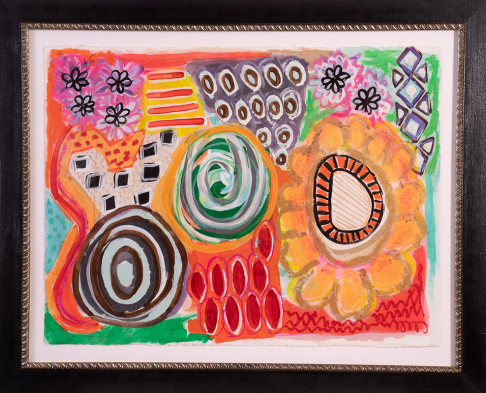 Julie Silvers Art
Tangerine Black Diamond
Mixed Media on Archival Paper, Framed
30" x 37"
Shipping cost: $350.00

Art found me, and it fit into my life.  I never dreamed of becoming an artist. I resisted the idea, but I could never escape my creativity. I see art all around me. I see beauty everywhere — nature, style, and design. 
I consider myself  self-taught even though I took a few classes here and there. I was surrounded by art growing up. I would watch my mother, Susan Wittenberg, paint. I would go with her to art openings and art museums on our travels. In college, I took a painting class, taught by Adrian Deckbar. I have also taken a few classes at the New Orleans Academy of Fine Art. However, I have never liked the structure or discipline of the classroom. I learn by doing … I am learning every single day.
My life feels the most complete while am in my studio creating.  I find inspiration in various aspects of my daily culture. I am drawn to child-like, primitive, and imperfect qualities, and I want my artwork to reflect this and maintain a made-by-hand feel.
I have been creating artwork for over 30 years. I have a lot of experience behind me, developing my unique style, and I feel I have come into my own as an artist.  There is a little piece of me in each and every piece of art I create. I paint and sculpt from a place of love in my heart and gut.  My art is bright, colorful, playful and fun, and I want the viewer to feel that energy and spirit in it's presence! I hope to share happiness and joy with everyone through my work.

Julie Silvers is an abstract painter and ceramic sculptor living and working in Old Metairie.
Please visit Julie Silvers Art Linktree!
Find Julie Silvers Art Gallery on beautiful Magazine Street in New Orleans!
OLD METAIRIE
Meet the Artists
Local art is the lifeblood of our culture and communities. We source work from hundreds of painters, muralists, sculptors, metal workers, printmakers, illustrators, photographers, and textile artists, every one of whom is part of your local community.

Create your Account
With an account you can save favorite works, create collections, send messages to artists, store your shipping info, and more
---
Already a member? Sign in here

;