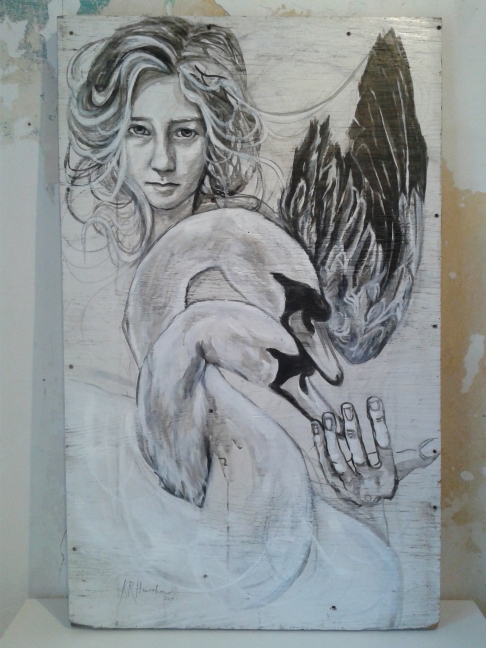 Seekers of Light
2015
I was given a blue snow goose wing two winters ago from a friend's hunting trip in North Dakota. This piece was born from it. She is holding it suspended like a flame. This was when I first started painting swans. I later found out that during that same time is when the constellation "Cygnus" or the swan constellation had aligned itself in our hemisphere, and so my swan series began.
Acrylic, India Ink on Found Wood
48" x 30"
Shipping cost: $0.00

I am an artist and teacher living in New Orleans. I graduated from the Savannah College of Art and Design with a BFA in Painting in 2007. I have exhibited my work nationally in cities such as Atlanta, Savannah, Boston, New York, and New Orleans, as well as internationally in Canada and France. A mixed media artist working in painting, paper cut-outs, photography, installation, and sculpture, my work exists in a realm of magical realism while creating an emotive narrative woven in-between the layers of memory, loss, and time.
You can see more of my work at katehanrahan.com
NEW ORLEANS
Meet the Artists
Local art is the lifeblood of our culture and communities. We source work from hundreds of painters, muralists, sculptors, metal workers, printmakers, illustrators, photographers, and textile artists, every one of whom is part of your local community.

Create your Account
With an account you can save favorite works, create collections, send messages to artists, store your shipping info, and more
---
Already a member? Sign in here

;