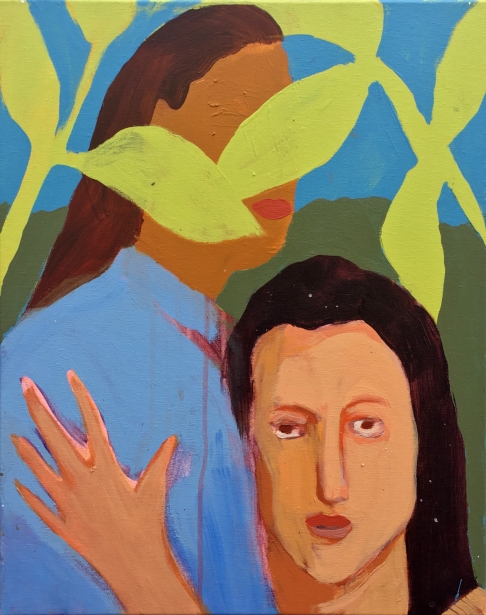 Jolene (Perfume Ad)
2017
It makes me think of when you are attached to someone and you can't ever think of being away from them; sometimes they become abstracted and you can't even place who they are really or why you really love them in the first place. I based this painting on a perfume ad in Vogue or some other fashion magazine. The supermodel couple was romantic and sensual, the ad was also black and white. I think this painting shows a different side of them.
Acrylic paint on canvas
20" x 16"
Shipping cost: $45.00

I am a figurative painter and illustrator from New Orleans, LA, I've been making art for as long as I can remember.

The people in my paintings are derived from a patch-work of source materials, creating imaginative but believable, everyday scenarios using vibrant colors inspired by this city's lush landscape.
I am a member of the Aquarium Gallery, Painters Painting Painters Group, Where Y'Art and one half of the Pop up Drawing Twins. I am a proud NOCCA alum with a BFA from Pratt Institute.
NEW ORLEANS
Meet the Artists
Local art is the lifeblood of our culture and communities. We source work from hundreds of painters, muralists, sculptors, metal workers, printmakers, illustrators, photographers, and textile artists, every one of whom is part of your local community.

Create your Account
With an account you can save favorite works, create collections, send messages to artists, store your shipping info, and more
---
Already a member? Sign in here

;