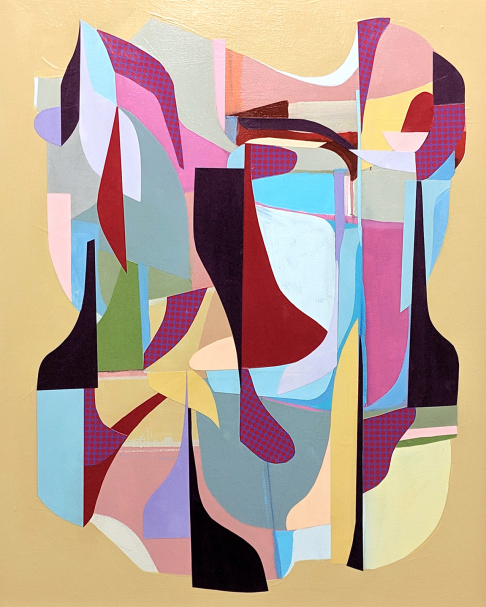 Carnival Summertime
2019
Acrylic and collaged paper on canvas
30" x 24" x 2"
Shipping cost: $100.00

Michael Eble was born in New Orleans, Louisiana. He received a BFA degree in painting from the University of Louisiana at Lafayette and a MFA degree in painting and drawing from the University of Mississippi, in Oxford, Mississippi. He is currently Curator of Events & Exhibitions for the College of the Arts at the University of Louisiana at Lafayette. He recently relocated back to Louisiana from Minnesota where he was an Associate Professor of Studio Art and Curator of the Edward J. & Helen Jean Morrison Gallery at the University of Minnesota, Morris for thirteen years. He has shown his paintings and works on paper in numerous regional and national solo and group exhibitions, most recently in Louisiana, Minnesota, North Dakota and Wisconsin. Eble was recently awarded a Artspark Grant from the Acadiana Center for the Arts in 2016, he has also been a recipient of several Imagine Fund awards and Grant in Aid awards from the University of Minnesota, along with a Residential Fellowship in 2008 from the Institute for Advance Study, along with additional grants and research funding from the McKnight Foundation, Lake Region Arts Council, Vermont Studio Center, Science Museum of Minnesota, and the New York Mills regional cultural center.
LAFAYETTE
Meet the Artists
Local art is the lifeblood of our culture and communities. We source work from hundreds of painters, muralists, sculptors, metal workers, printmakers, illustrators, photographers, and textile artists, every one of whom is part of your local community.

Create your Account
With an account you can save favorite works, create collections, send messages to artists, store your shipping info, and more
---
Already a member? Sign in here

;