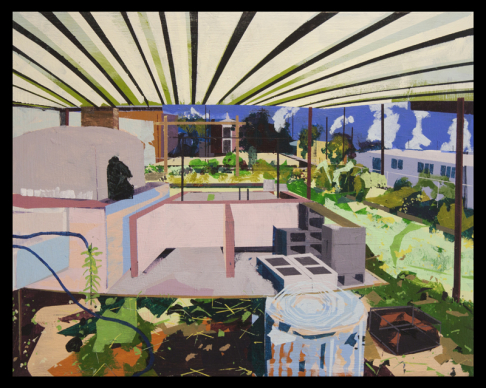 Paradigm Garden Kitchen: Central City, New Orleans, LA
2015
Paradigm is an urban production garden created by Joel Hitchcock and Jim Steely in 2014. Paradigm produces fresh vegetables, herbs, eggs, honey, goat milk and other products on its 4,000 square foot lot in Central City. Paradigm partners with area restaurants such as Coquette, Patois and Wayfare providing fresh, local produce for their weekly specials. The garden also hosts monthly parties, live music events and feasts using their produce and a hand-built brick oven.
Acrylic on panel
14" x 18"
Shipping cost: $220.00

I'm an emerging visual artist living and working in New Orleans, La. I graduated from NOCCA Riverfront in 2009 and left the city to attend School of the Museum of Fine Arts and Tufts University, earning a BFA in 2013. After college I moved back to NOLA to appreciate, learn, and grow from the richness of culture, food, music, and art that keeps my creativity flowing strong.
NEW ORLEANS
Meet the Artists
Local art is the lifeblood of our culture and communities. We source work from hundreds of painters, muralists, sculptors, metal workers, printmakers, illustrators, photographers, and textile artists, every one of whom is part of your local community.

Create your Account
With an account you can save favorite works, create collections, send messages to artists, store your shipping info, and more
---
Already a member? Sign in here

;