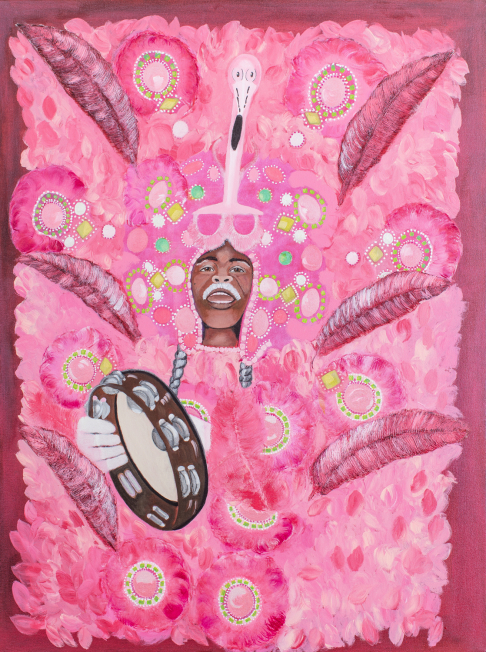 Gator Girl Art
Flamingo Madness
2018
It has been pretty fabulous at Gator Girl Art lately. I will tell you this one tale… I was at my friend, Derrick Hemphill's house.  He was having an open house to introduce his huge, new printer. While I was there, I asked Derrick if he could get permission for me to paint a Mardi Gras Indian. He knows a lot of people, and he grew up in the Treme. Right away, he asked his mother to go downstairs and get Big Chief David Montana. This threw me right out of my comfort zone. I never thought of painting a Big Chief. He came upstairs and he agreed to let me to paint him. I also got to see his house, the suit he is working on, and lots of photos. This is all so cool. Google him. He's famous. It is a little tilted on purpose. I was worried about all of the little feathers, but they turned out really fun to paint. I used a fan brush and loaded it with three colors of pink. I used The Chief as the light source. I am a little proud of that idea. Here it is. I did my best. I feel lucky. When it sells, the Big Chief receives half the sale price. 
Acrylic paint, molding paste, and varnish on canvas.
30" x 24"
Shipping cost: $100.00

Nancy Wolfe Kimberly, aka Gator Girl, is lover of all things New Orleans. New Orleans is her muse. Wherever she looks she is struck visually and spiritually by her surroundings. Whether it is a Mardi Gras Indian in his dazzling suit, an alligator sunning herself along the bayou, or a quiet cemetery in the evening, New Orleans speaks to her heart. When she paints she has two goals, to spread healing energy to the city and to spread the New Orleans attitude of love to the rest of the world. Nancy Wolfe Kimberly is a New Orleans artist living and working in the Uptown neighborhood.
NEW ORLEANS
Meet the Artists
Local art is the lifeblood of our culture and communities. We source work from hundreds of painters, muralists, sculptors, metal workers, printmakers, illustrators, photographers, and textile artists, every one of whom is part of your local community.

Create your Account
With an account you can save favorite works, create collections, send messages to artists, store your shipping info, and more
---
Already a member? Sign in here

;