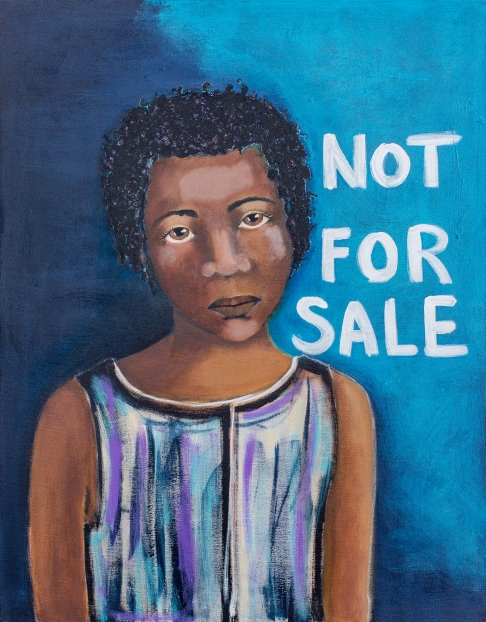 Gator Girl Art
Not For Sale.
2016
I wish I knew her name. While I was painting her in blacks, browns, buff and white, looking like the early 1900's, I was smashed with the feeling of present day slavery. Like a ton of bricks. I started asking everyone who came around too many questions. I couldn't calm my brain. Did I just want to paint a girl in slavery from the 1900's because I knew she was free now? I stayed up late painting. Very late for me, past midnight. I added colors. I thought I added colors in her hair to show depth. I added colors to her dress because I knew I was going to cover her dress with material. The original plan was to glue sack cloth on her dress outline. The next morning, I saw a slave from the last century in colors. So it is both. Old and continuing slavery. We can't deny it. We shouldn't deny it if we want the air breathable. 
Acrylic paint, grease pencil, varnish on canvas.
28" x 22"
Shipping cost: $100.00

Nancy Wolfe Kimberly, aka Gator Girl, is lover of all things New Orleans. New Orleans is her muse. Wherever she looks she is struck visually and spiritually by her surroundings. Whether it is a Mardi Gras Indian in his dazzling suit, an alligator sunning herself along the bayou, or a quiet cemetery in the evening, New Orleans speaks to her heart. When she paints she has two goals, to spread healing energy to the city and to spread the New Orleans attitude of love to the rest of the world. Nancy Wolfe Kimberly is a New Orleans artist living and working in the Uptown neighborhood.
NEW ORLEANS
Meet the Artists
Local art is the lifeblood of our culture and communities. We source work from hundreds of painters, muralists, sculptors, metal workers, printmakers, illustrators, photographers, and textile artists, every one of whom is part of your local community.

Create your Account
With an account you can save favorite works, create collections, send messages to artists, store your shipping info, and more
---
Already a member? Sign in here

;