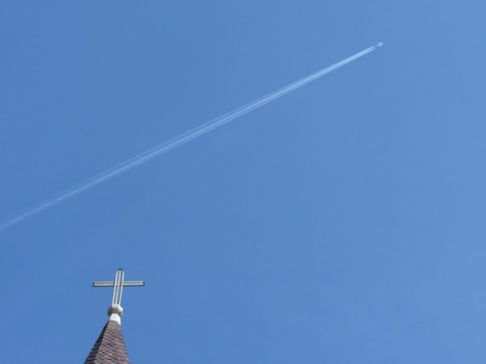 Crossing Plane, St. Louis Cathedral
2016
This plane was flying over the St. Louis Cathedral while I was waiting on my photo workshop one Sunday morning. I couldnt resist the photo opp or the opportunity to note the cross and the plane.
Digital print
8" x 10" | 11" x 14" Framed
Shipping cost: $10.00

At the root of all my work is my worldview. From the tiniest twig to the largest tree, the natural world is a source of inspiration for me, as well as the environment we create for ourselves. As the world becomes more modernized, I often find myself in nature connecting and recognizing humankind's place in the world. With that thought in mind, I use the 19th century technique of lumen printing to create a true impression of our world. In my lens based photography and songwriting, I explore the world, reflecting on what is, what can be and the relationship between ourselves and nature. I love sharing with others whether through new works, exhibitions, performances/presentations, teaching, and random stories. I believe that when we form a connection, whether it lasts for a moment or a lifetime, the benefits are infinite.

Natasha Sanchez is a New Orleans artist living and working in the Lower Garden District neighborhood.
NEW ORLEANS
Meet the Artists
Local art is the lifeblood of our culture and communities. We source work from hundreds of painters, muralists, sculptors, metal workers, printmakers, illustrators, photographers, and textile artists, every one of whom is part of your local community.

Create your Account
With an account you can save favorite works, create collections, send messages to artists, store your shipping info, and more
---
Already a member? Sign in here

;