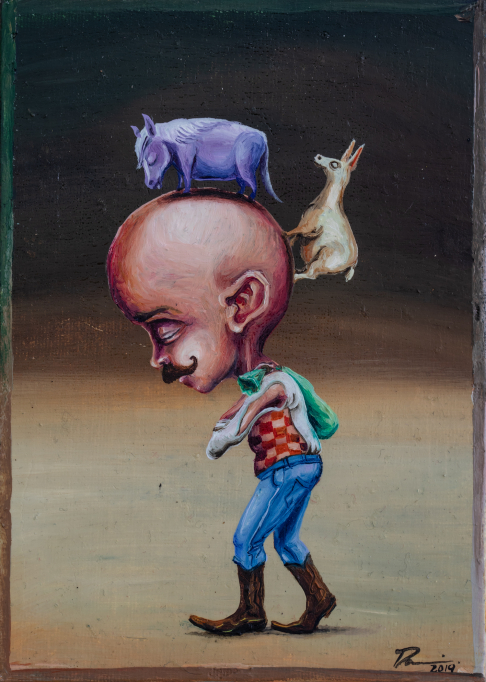 La Culpa
2019
The way you were raised is something you carry with you always. Sometimes, it gets pretty heavy.
Oil on Canvas
5" x 7" | 7.5" x 9.5" Framed
Shipping cost: $20.00

My artwork is about the connections that bring seemingly disparate worlds and ideas joyfully together. Animals and animalian humanoids appear frequently as whimsical characters. I feel a great connection to and influence from the world of dreams. Dreams are the mind's way of processing and expressing intense emotions and experiences. These raw emotional connections seek to bring the viewer back to a place in childhood where the heart understood the world before the eye and mind did.
Growing up in Cuba after the collapse of the Soviet Union, when being well fed was a rare luxury, nature was my toybox. Death and decomposition were a part of daily life. I remember feeling an innocent curiosity about animals rotting in the dirt, seeing beauty in their bones as I saw beauty in the creature that had been alive not long before. When I moved to New Orleans, I felt a deep connection to the way death is celebrated here as a part of loving life. The music and spirit of the places I have lived have deeply influenced me as well, and my work is frequently imbued with this music that is like a spiritual pulse.
Meet the Artists
Local art is the lifeblood of our culture and communities. We source work from hundreds of painters, muralists, sculptors, metal workers, printmakers, illustrators, photographers, and textile artists, every one of whom is part of your local community.

Create your Account
With an account you can save favorite works, create collections, send messages to artists, store your shipping info, and more
---
Already a member? Sign in here

;