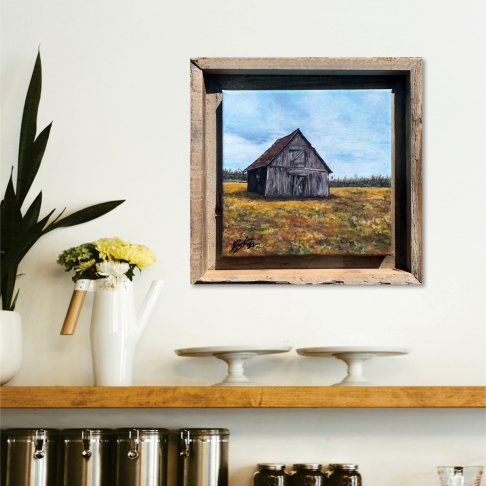 BARN #1
2022
Barns in Louisiana are very common. These structures are so much a part of who I am culturally, but it speaks to the lives touched by this way of life. Being the son of a sharecropper brings back memories of how different life was from the people I knew who grew up with access to the "stuff" that I saw. It was a lesson in how things are just that...things. The best life is rooted in the way living with what I thought was less, made me more appreciative of what lessons were attached to the very elements of the area helped to shape me. 
Acrylic/Barnwood Frame
8" x 8"
Shipping cost: $100.00

My art is not only a reflection of my past or present, but a combination of both. The days of old in rural Belcher, Louisiana, my college days, and life experiences along the way are brought to life through my art. Art has given me the opportunity to share this journey on paper and canvas. Although you will see some elements that are undeniably personal for me, so much of it has more to do with LIFE. I encourage you to travel along with me. My hope is that you make a personal connection that also becomes universal - in a very authentic way. Expressing my "heart" revolves around not being specific to any particular style. I believe that the many facets of my visuals represent the "multi-creative" soul that I am... evolving constantly. Being a visual artist, graphic designer, writer, and musician, my artistic expression moves into many arenas. Like the aforementioned creative mediums I enjoy, my art will reflect a hint of these various creative disciplines... all done from my heart. With these visual representations of color and textures, it is my hope that you see something in these works that will cause you to stop for a moment to... Remember. Dream. Hope. Reminisce... then Dream again.
SHREVEPORT
Meet the Artists
Local art is the lifeblood of our culture and communities. We source work from hundreds of painters, muralists, sculptors, metal workers, printmakers, illustrators, photographers, and textile artists, every one of whom is part of your local community.

Create your Account
With an account you can save favorite works, create collections, send messages to artists, store your shipping info, and more
---
Already a member? Sign in here

;