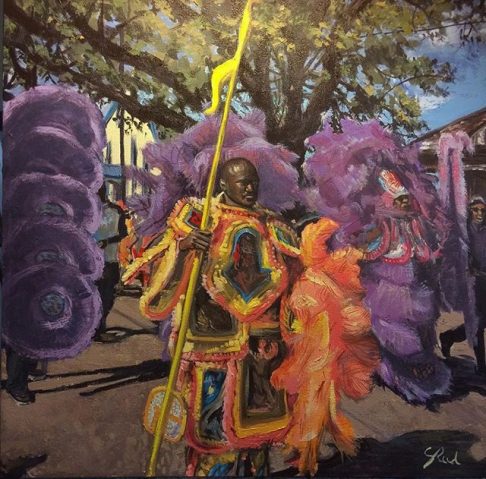 Won't Bow Down
2018
Super Sunday Indian procession in Central City. This painting shows the Spy Boy of the Golden Blades Mardi Gras Indians momentarily with his feathered headdress off. The composition juxtaposes his strength and determined force (the stark diagonal yellow staff and the saturation of color) with this brief vulnerable moment of his exposed head: a reminder of the weight of the walk and the humanity behind the mask.
Oil on Canvas. Framed in red oak.
19.5" x 19.5" framed
Shipping cost: $0.00

I love life in New Orleans. I am an accordionist and painter that daylights as an application developer at a not-for-profit.
Stephanie Reed is a New Orleans artist living and working in the 7th Ward.
7TH WARD
Meet the Artists
Local art is the lifeblood of our culture and communities. We source work from hundreds of painters, muralists, sculptors, metal workers, printmakers, illustrators, photographers, and textile artists, every one of whom is part of your local community.

Create your Account
With an account you can save favorite works, create collections, send messages to artists, store your shipping info, and more
---
Already a member? Sign in here

;