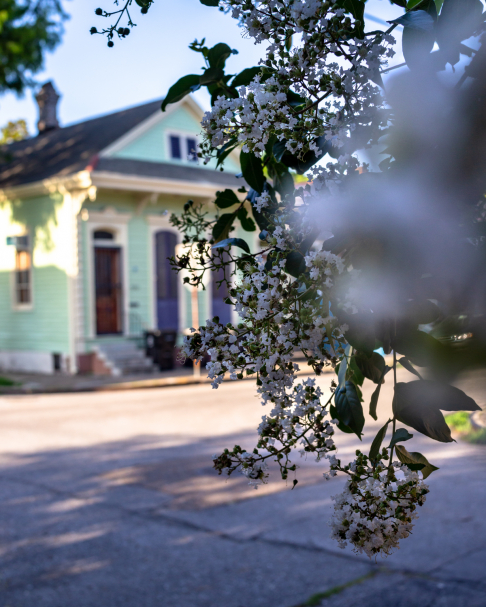 Springtime Blossoms
2020
Blooming Crepe Myrtle in Bywater Neighborhood. 
Prints are hand signed and come with a one inch border around printed image. 
Signed Printed photograph 
16x24
Shipping cost: $5.00

For me, art and photography have always gone hand in hand. Since I can remember I have always been fascinated with the mechanics of cameras, their operation, and their ability to capture. I deem myself more an artist than that of a traditional photographer and have always been interested in alternative image making processes. Experimental photographic practices such as double exposures, shooting with expired film, & hand tinted photographs have all inspired and interested me. More recently I've been exploring making photographs by hand. This has lead me to make weavings from my photographs. It begins with slicing my photographs into strips, working them back together and framing them in frames (you guessed it) that I also make myself. The art I create from this point forward will borrow from the best from the past, with inspiration from today, to become contemporary artworks that are a unique combination of the two.
My work has been showcased on online photography blogs such as @plantsonpink, @filmshooterscollective, @art.film, featured in "The French Quarterly", have pieces on display at The Catahoula Hotel and the NOPSI Hotel. I've showcased my work at Royal House Gallery, St. Coffee, Downtown Gallery, Sneaky Pickle, The Tigermans Den, The Kirschmens Art Space at NOCCA, The Hubbell Branch Library in New Orleans, The Contemporary Art Center (CAC), and the Ogden Museum of Southern Art. I have work in numerous private collections around the world.
NEW ORLEANS
Meet the Artists
Local art is the lifeblood of our culture and communities. We source work from hundreds of painters, muralists, sculptors, metal workers, printmakers, illustrators, photographers, and textile artists, every one of whom is part of your local community.

Create your Account
With an account you can save favorite works, create collections, send messages to artists, store your shipping info, and more
---
Already a member? Sign in here

;