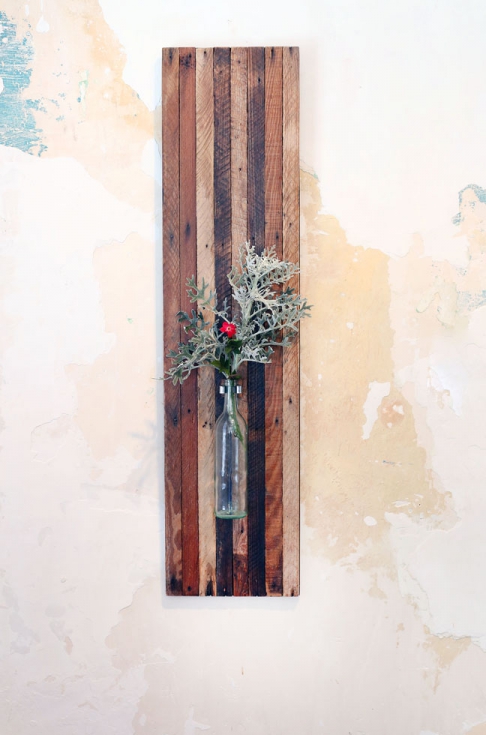 Pompadour Productions
Large Lath Board Wall Vase
2014
During the aftermath of Katrina , mountains of this wooden lath were piled up all over the city. It is used as the support framework for the beautiful plaster walls in the old homes here in New Orleans. . Many of these walls were damaged in the storm and had to be torn out and rebuilt. We gathered as much as we could store and have used it to create many different things : furniture, walls, frames and more. These pieces were inspired by a large collection of old bottles we've collected over years and an attempt to do something both useful and decorative with them. I love the backdrop of the old wood that frames a single flower , a bunch of blooms, or even some dried pods or branches beautifully. Use your own bottle or purchase a vintage bottle from us.
Red Pine lath board salvaged from New Orleans homes (bottle sold separately)
11.25" x 47"
Shipping cost: $12.95

Pompadour Productions is a collaborative effort between artists Wyoming Quinn and F. Scott Greenfield.
We are multifaceted designers that apply our talents to projects across a broad spectrum of scale and mediums. We design, build and source decor for parties, weddings, restaurants, workspaces and personal commissions. Our aesthetic is heavily influenced by our adopted hometown of New Orleans, La. and the American South.
Joining the Where Y'Art Collaborative is a great opportunity for us to produce some of our pieces for more personal and home use. We love to work on custom pieces too so please don't hesitate to contact us with your ideas. Our website is www.pompadourproductions.com
Wyoming Quinn and Scott Greenfield are New Orleans artists living and working in the Uptown area.
UPTOWN
Meet the Artists
Local art is the lifeblood of our culture and communities. We source work from hundreds of painters, muralists, sculptors, metal workers, printmakers, illustrators, photographers, and textile artists, every one of whom is part of your local community.

Create your Account
With an account you can save favorite works, create collections, send messages to artists, store your shipping info, and more
---
Already a member? Sign in here

;