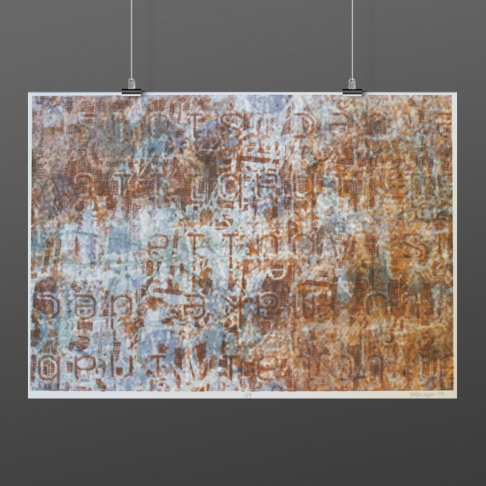 Proximity in Brown & Blue
2014
This print is one of several from a solo exhibition "Proximity" that was on display in 2014 in The Ameen Art Gallery in Thibodaux, LA. This series was primarily an experiment with creating the illusion of three-dimensional space on a flat surface, with visual texture and color interactions. It was derived from my passion for typography and re-creating textures within my screen prints.
Screen Print on Bristol Board
12" x 17"
Shipping cost: $0.00

I am an avid printmaker and graphic designer specializing in screenprinting, but I also have a knack for print design and hand lettering. I graduated from Nicholls State University with a BA in printmaking. While attending, I also studied graphic design and English. My prints have been exhibited in the Ameen Art Gallery located in Thibodaux, LA. I currently teach a wide variety of printmaking and basic bookbinding techniques at The New Orleans Glassworks and Printmaking Studio. I am currently pursuing an MFA in printmaking and live in New Orleans.
Hilary Dugas is a New Orleans artist living and working in New Orleans and the surrounding areas.
METAIRIE
Meet the Artists
Local art is the lifeblood of our culture and communities. We source work from hundreds of painters, muralists, sculptors, metal workers, printmakers, illustrators, photographers, and textile artists, every one of whom is part of your local community.

Create your Account
With an account you can save favorite works, create collections, send messages to artists, store your shipping info, and more
---
Already a member? Sign in here

;