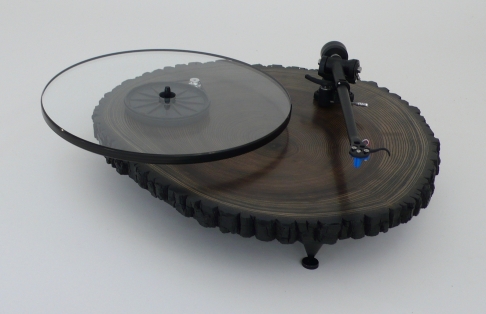 Audiowood
Audiowood Black Barky Turntable
2017
Black Barky is an ebonized version of the original Barky Turntable that's been around since 2009. Barky is an almost embarrassingly simple design that is, in reality, very difficult to execute. It begins with an ash wood round from a family logger in the upper Midwest who has perfected a drying technique that prevents cracking. Once they arrive in New Orleans, the rounds are sanded perfectly flat and are given individual design layouts due to their unique shapes. Then they are machined to very tight tolerances, finished by hand, and fit with a beautifully made, audiophile grade parts kit from Rega, made in the UK. As with all Audiowood products, they are then packaged in recycled or biodegradable packaging (or both) and sent anywhere in the world. Barky has been featured in dozens of major publications, including California Home and Design, Wired (Germany), Inked, Velvet (Italy), and in blogs from BoingBoing, to Cool Hunting and Daily Candy, etc. Barky is a limited-production (10-15 per year on average), high-quality turntable made with a solid ash round, quality Rega parts kit, 24 Volt Power Supply, heavy glass platter and Rega RB330 tonearm. It includes a pre-mounted Rega Elys2 Cartridge, adjustable dark chromed solid brass spike legs, and is finished with hand-rubbed polyurethane and paste wax. Each Barky is handmade in New Orleans and each is somewhat unique. Barky is available in 3 versions: a 115V version for the US and Canada, a 115V version for certain other international locations (like Mexico), and a 230V version for most international locations. Shipping for international locations is $130.00. Shipping to US is free. Because the cartridge is already mounted and aligned, Barky only requires a few minutes of setup before use. Barky is compatible with the Rega TTPSU external power supply which is available as an extra, and which allows for push-button speed changes. Barky is also compatible with many aftermarket Rega-compatible products, such as Groovetracer subplatters. This table is a custom order and should ship in 2-3 weeks. International customers, please note: you are responsible for any and all customs/import duties assessed in the destination country. These fees can be quite high in certain countries, so please be aware of them before ordering. Barky is sustainably made in the USA with quality UK parts and comes with a 3-year warranty from Audiowood, protecting against defects in manufacture and assembly. The cartridge is not included in this warranty.
wood, aluminum, brass, glass
15"D x 17"W x 5"H
Shipping cost: $0.00

Born and raised in Florida, Joel studied art, architecture, and design in New York and Europe before earning a PhD in Media and Cultural Studies.  As part of these studies, he interned in carpentry, architecture, and urban planning.
Joel defected from academia in 1997 to return to designing and making things as a renovation carpenter in the California Bay Area.  Over time, his carpentry shifted towards fine woodworking, and he made his first audio turntable, and founded his company Audiowood in 2008.
Joel's work has been featured in art, design and audio exhibitions across the US.  And he was named a "Person to Watch" and a "Tech Designer to Watch" by New Orleans Magazine and Apartment Therapy, respectively.

Audiowood designs have also won numerous awards at art shows and craft fairs, including "Most Unique Work" at New Orleans' Jazz Fest in 2015 and 2018, and they are featured in dozens of major international publications including The New York Times, California Home and Design, Inked, Velvet (Italy), Wired (Germany), Visi (South Africa), Design (Taiwan), The Daily Mail (UK), BoingBoing, Cool Hunting, Apartment Therapy, Thrillist, etc. Most recently, Joel was awarded "Runner Up" in Garden and Gun Magazine's Made in the South Awards.
Over the years, Joel has partnered with a wide variety of international and local interests, including Uncrate, Bushmills, Anthropologie, Paramount Pictures, Adrian Grenier's SHFT, Kemble Interiors, and both WWOZ Radio and The Green Project in New Orleans.
Joel was recently awarded a patent for an innovative approach to modular housing design, and he's currently producing a "science fictional" series of organic, kinetic sculptures, that tap into themes of sustainability and post-apocalyptic survival gadgetry. Joel began work on the latter project in Spring/Summer 2021 as an Artist in Residence at the Joan Mitchell Center.
Joel has lived in New Orleans since 2013.
NEW ORLEANS
Meet the Artists
Local art is the lifeblood of our culture and communities. We source work from hundreds of painters, muralists, sculptors, metal workers, printmakers, illustrators, photographers, and textile artists, every one of whom is part of your local community.

Create your Account
With an account you can save favorite works, create collections, send messages to artists, store your shipping info, and more
---
Already a member? Sign in here

;