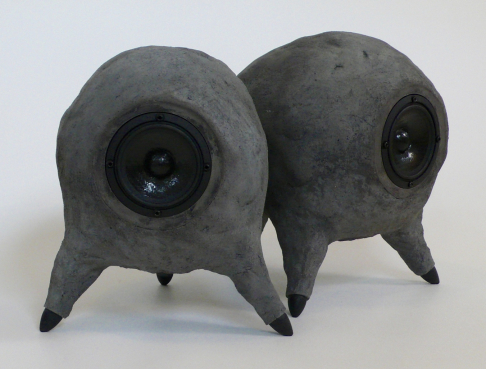 Audiowood
Audiowood Little Sound Things
2018
Little Sound Things are part of Audiowood's new line of concrete "Sound Things" speakers. The Little ones are satellite speakers intended for use only with an Audiowood subwoofer or another quality subwoofer. Little Sound Things are constructed of hand-molded reinforced concrete around an egg-shaped wooden core with a highly irregular interior surface that is designed to eliminate "standing wave" distortion. Drivers are high-quality full range drivers by Seas of Norway. These room-friendly speakers are great with all types of music in small to medium-sized rooms and have the great audiophile credentials that full-range, point-source speakers are known for: precise imaging, good sound staging, etc. They are very precise, but yet non-fatiguing. Each pair is somewhat unique in shape. The speakers feature gold-plated, undermounted 5-way binding posts, and 6mm threaded inserts in legs that allow for either rubber feet (included) or spikes. Sound Things are also available in the form of floor standing speakers and a powered subwoofer. In fact, because of their unique construction technique, an almost infinite number of custom designs is available, including smaller footprint floor standers, the use of higher-quality Seas coaxial drivers, other shapes, etc. Specifications: Approximate weight: 15lb each Seas Performance Specifications 8ohm Range -3db: 99-20k Hz Sensitivity: 82db Shipping is free in the US, $125 international. Price is per pair.
Reinforced Concrete, Wood
11"H x 11"W x 11"D
Shipping cost: $50.00

Born and raised in Florida, Joel studied art, architecture, and design in New York and Europe before earning a PhD in Media and Cultural Studies.  As part of these studies, he interned in carpentry, architecture, and urban planning.
Joel defected from academia in 1997 to return to designing and making things as a renovation carpenter in the California Bay Area.  Over time, his carpentry shifted towards fine woodworking, and he made his first audio turntable, and founded his company Audiowood in 2008.
Joel's work has been featured in art, design and audio exhibitions across the US.  And he was named a "Person to Watch" and a "Tech Designer to Watch" by New Orleans Magazine and Apartment Therapy, respectively.

Audiowood designs have also won numerous awards at art shows and craft fairs, including "Most Unique Work" at New Orleans' Jazz Fest in 2015 and 2018, and they are featured in dozens of major international publications including The New York Times, California Home and Design, Inked, Velvet (Italy), Wired (Germany), Visi (South Africa), Design (Taiwan), The Daily Mail (UK), BoingBoing, Cool Hunting, Apartment Therapy, Thrillist, etc. Most recently, Joel was awarded "Runner Up" in Garden and Gun Magazine's Made in the South Awards.
Over the years, Joel has partnered with a wide variety of international and local interests, including Uncrate, Bushmills, Anthropologie, Paramount Pictures, Adrian Grenier's SHFT, Kemble Interiors, and both WWOZ Radio and The Green Project in New Orleans.
Joel was recently awarded a patent for an innovative approach to modular housing design, and he's currently producing a "science fictional" series of organic, kinetic sculptures, that tap into themes of sustainability and post-apocalyptic survival gadgetry. Joel began work on the latter project in Spring/Summer 2021 as an Artist in Residence at the Joan Mitchell Center.
Joel has lived in New Orleans since 2013.
NEW ORLEANS
Meet the Artists
Local art is the lifeblood of our culture and communities. We source work from hundreds of painters, muralists, sculptors, metal workers, printmakers, illustrators, photographers, and textile artists, every one of whom is part of your local community.

Create your Account
With an account you can save favorite works, create collections, send messages to artists, store your shipping info, and more
---
Already a member? Sign in here

;