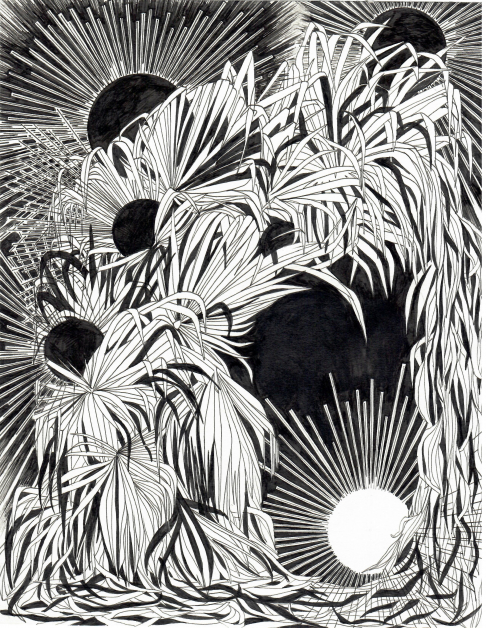 Shady
2024
Pen and ink on paper
8.5"x11"
Shipping cost: $10.00

I was born and raised in the Northeast. I received my BFA in printmaking from Pratt Institute in 2010, and also completed programs at Massachusetts College of Art and the School of the Art Institute Chicago. In 2008 I accepted a job with an acclaimed artist collective in Brooklyn as their head printer. I spent the following eight years silkscreening on virtually any surface, installing large scale wood and ceramic installations, producing print editions, and overseeing a number of other projects. During that period I learned how to be a working artist by the true definition of the term, and to cultivate my own studio practice while being employed full time- which beyond drawing and illustration includes tattooing, sign writing, and various design projects. Despite my long history with printmaking, I found myself drawn to the simplicity of pen and ink which is now my primary medium.
After twelve years in Brooklyn, I moved to New Orleans in 2017. My work has since shifted towards themes surrounding adorned portals, pathways and voids- explorations of both the uncertainty of death and a deteriorating planet. My work also references my fascination with the natural environment of the gulf south, as I am constantly inspired by the beauty of what grows here. In December 2022 I completed my fourth solo show, which explored these themes. I am currently, and probably forever, based in New Orleans.
NEW ORLEANS
Meet the Artists
Local art is the lifeblood of our culture and communities. We source work from hundreds of painters, muralists, sculptors, metal workers, printmakers, illustrators, photographers, and textile artists, every one of whom is part of your local community.

Create your Account
With an account you can save favorite works, create collections, send messages to artists, store your shipping info, and more
---
Already a member? Sign in here

;