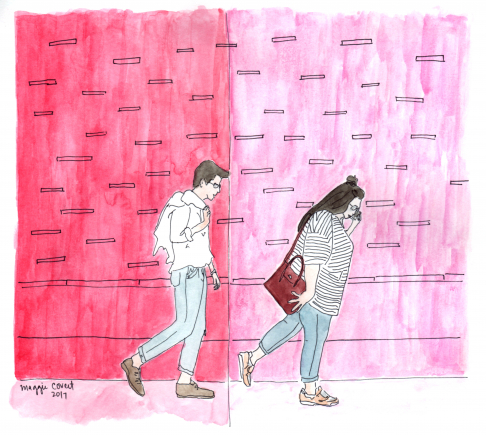 WalkingMan Studios
Two Tone Pink Walk
2017
pen and ink with watercolor
7x7.5 inches, matted to 8x10 inches
Shipping cost: $9.00

I received my Bachelor's degree from Maryland Institute College of Art in Interdisciplinary Sculpture with a Concentration in Book Arts. I was born and raised in New Orleans, Louisiana. My home has made a huge impact on my art, as the culture, vitality, and architecture are hard to escape.
 I have been exploring the ideas of losing the contributing factors that make a place home. I have been drawn to the repetitive nature of disastrous events along with the governmental, social, and geographic reactions to these.
My work channels the whimsical nature of New Orleans' architecture and characters. I continue to be drawn to details in the buildings and landscape of my hometown. Seeing the beauty and tireless work in each structure, I create a connection to each establishment through the recreation of these in architectural drawings and paintings.
In addition to the architectural work, I have begun a series of "Walking Illustrations". Each walking piece is meant to provoke a feeling of movement (physical, emotional, spiritual, mental)- growth in one's life and development. With these illustrations, I hope to portray a joy that much art, culture, and people are missing in modern times. Focusing in on joy with a little whimsy as well as historical or spiritual undertones, I aim to show that everyone "walks" a similar path.
NEW ORLEANS
Meet the Artists
Local art is the lifeblood of our culture and communities. We source work from hundreds of painters, muralists, sculptors, metal workers, printmakers, illustrators, photographers, and textile artists, every one of whom is part of your local community.

Create your Account
With an account you can save favorite works, create collections, send messages to artists, store your shipping info, and more
---
Already a member? Sign in here

;