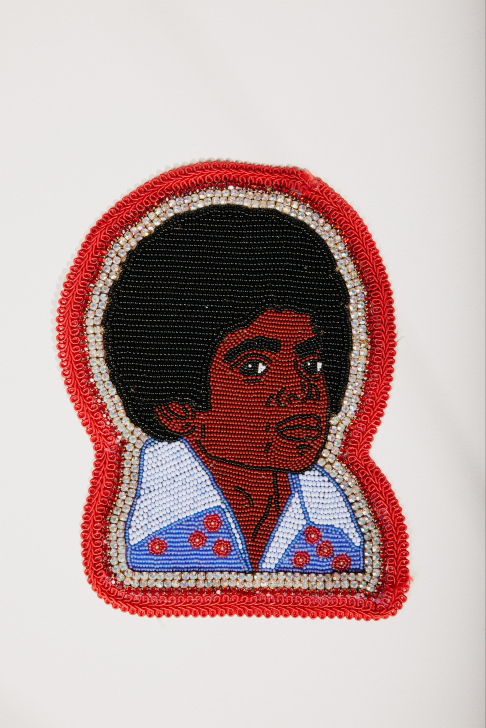 Jackson 5
2020
Hand drawn on canvas,
Hand beaded with glass beads
Finished with Rhinestone and Trim
8 1/2" H x 6 1/2" W
Shipping cost: $150.00

I am Spyboy Rashaud Brown, an Alum of New Orleans Center For Creative Art. I'm one of the youngest black masking Indians of New Orleans. As one of the founders of Young Seminole Hunters (Mardi Gras Indian tribe), I have spent the majority of my life and energy trying to keep the tradition alive. The tradition of Mardi Gras Indians dates back to the 1700's. During the time of slavery in New Orleans, Native Americans were said to help many African American slaves find refuge within their community. In 1857, the first Mardi Gras celebration was held. This was a prime time for segregation, meaning African Americans were prohibited from participating in any festivities. Because of this exclusion, a group of African Americans decided to pay homage to the Native Americans by dressing up in feathers, beads, and preforming traditional songs and dances. In doing so, African Americans created their own celebratory traditions that would be carried on through generations. Each year, those who choose to participate create one of a kind, hand-sewn costumes. These intricate costumes take an entire year to complete. Each suit can end up weighing around 150 pounds due to thousands of sequins, beads, rhinestones, and ostrich plumes. These costumes are then worn on Mardi Gras day in celebration of a rich heritage within the black community in New Orleans. Mardi Gras Indians are a representation of vibrant culture, unity, and love.
NEW ORLEANS
Meet the Artists
Local art is the lifeblood of our culture and communities. We source work from hundreds of painters, muralists, sculptors, metal workers, printmakers, illustrators, photographers, and textile artists, every one of whom is part of your local community.

Create your Account
With an account you can save favorite works, create collections, send messages to artists, store your shipping info, and more
---
Already a member? Sign in here

;