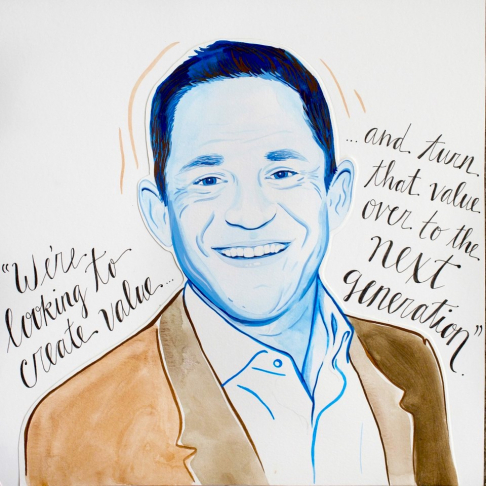 Matt Schwartz
2018
The icon: Matt Schwartz. The legacy: Where others see blight, Matt Schwartz sees opportunity. A native New Yorker who came to New Orleans to attend Tulane, Schwartz -- with friend Chris Papamichael, whom he met at Tulane -- started The Domain Cos., a development company geared toward building affordable housing. It found a niche in post-Katrina New Orleans, redeveloping a once-seedy stretch of Tulane Avenue into an area with 483 mixed-income apartments and 5,000 square feet of retail space, transforming a former furniture company into the Warehouse District's Ace Hotel, and carving the trendy South Market District out of a long-overlooked swath of downtown parking lots and aging buildings. In addition to demonstrating both his vision and business acumen, it's through those kinds of projects that Schwartz is helping change the New Orleans skyline -- and breathe new life into a grand old city. The quote: "There are far easier ways to make money in real estate than to do what we do. If we wanted to crank out 10 garden-style apartment projects a year, that would be easy to do, but it would be boring." -- Matt Schwartz, in a 2017 interview with NOLA.com | The Times-Picayune TRI-via In recognition of his work, Schwartz received the T.G. Solomon Award for Entrepreneurship and Civic Engagement, which NOLA Media Group presents annually with the Solomon family to entrepreneurs who have become civic leaders. To build support for an early project to create housing options along Tulane Avenue, Schwartz and Papamichael held a series of crawfish boils for their Mid-City neighbors to answer questions. The strategy worked. Schwartz came to New Orleans to attend Tulane University's A.B. Freeman School of Business. He met his wife, Christa, at the Uptown campus. In a 2017 interview, Schwartz said he realized he wanted to stay in New Orleans one night when, standing next to his father, he heard Dr. John play at the House of Blues. His first real estate project, with Papamichael, rose on 43 acres of farmland outside Ithaca, N.Y., where they built housing for people who couldn't afford to live in the city that's home to Cornell University. The Overlook at West Hills was completed in May 2007. Schwartz grew up holding an ice-hockey stick - he played center - and following the New York Rangers. He had considered playing college hockey until his parents suggested he check out Tulane and focus on education. He lied about his age to land his first job in a GNC store in Syosset, N.Y., on Long Island. He was 17, a year shy of the company's minimum age.
Archival Print
16" x 16"
Shipping cost: $15.00

I am a painter, muralist, illustrator, and designer, living and working in the French Quarter. I work in a variety of painting media including oil, acrylic, gouache, and house paint, and my painting style varies widely according to the chosen media. My work emphasizes the strength of femininity and nature, attempting to offer space for peace (particularly in these times of great national strife). I am originally from Atlanta, but have lived in Prague, Boston, Chicago, New York, Halifax, and Cape Town before settling in New Orleans in 2014. Each place has contributed invaluable inspiration for my studio practice, for which I will be forever grateful. In addition to painting projects, I also co-run Luna Raae, a vintage clothing pop up that focuses on celebrating New Orleans style expression and encourages divestment from fast fashion.
My oil paintings, which I call "Where-Scapes", explore imaginary spaces that linger between worlds and inspire a sense of curiosity as coping mechanism for loss. I am thinking about the dualism of absence and presence, exploring where a human imprint is felt in an ethereal space and light can emerge from darkness.
My 'Saints' are created on salvaged wood using acrylic or latex paint. They are imaginary deities inspired by the celebratory spirituality of the crescent city, containing elements of medieval iconography, Russian nesting dolls, contemporary street art, and American folk art. These goddess figures are intended to bring good energy into the spaces they inhabit. They are a meditative release to create, an opportunity to play with color and pattern in inventing character.
My murals involve layers of botanical imagery, encouraging reflection on the unparalleled beauty of our natural world, and our tragic, but primary, role in its destruction. I hope to inspire a sense of joyful calm within small businesses and homes in the city, similar to that which can be achieved in nature as a reminder for the value of its conservation.
I am very grateful to Where Y'Art and the Nola Media Group for having me participate in the 300 for 300 project, highlighting remarkable people who have contributed to the beautiful place we all call home. I do all of these portraits in gouache on paper, using information gathered through research to include elements of each persons story in their portrait. It has been a fun and challenging journey so far and I look forward to working on this throughout the year.
NEW ORLEANS
Meet the Artists
Local art is the lifeblood of our culture and communities. We source work from hundreds of painters, muralists, sculptors, metal workers, printmakers, illustrators, photographers, and textile artists, every one of whom is part of your local community.

Create your Account
With an account you can save favorite works, create collections, send messages to artists, store your shipping info, and more
---
Already a member? Sign in here

;