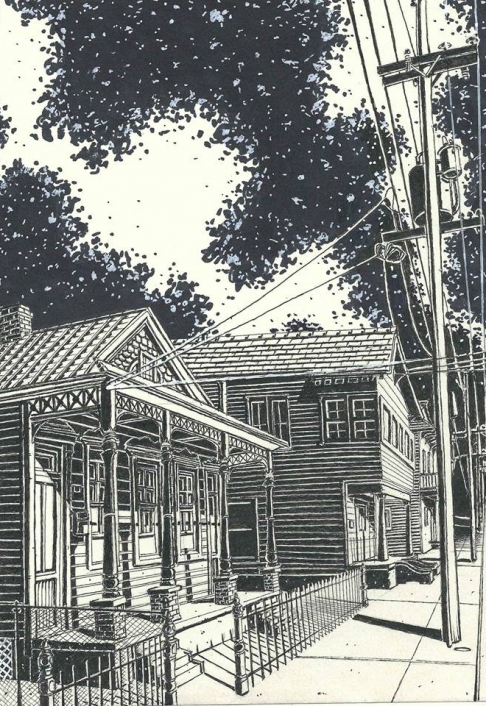 The Dark End of the Street
2016
Mechanical Pencil, Black and White Ink on Paper
10" x 7"
Shipping cost: $15.00

Originally from Miami, FL, I went to art school in Sarasota, FL at the Ringling School of Art and Design and earned a Bachelor's degree in Fine Arts, Dept. of Computer Animation. From there, I began a career in animation working at several studios around the country and finally ending up at Nintendo's Retro Studios in Austin, TX for 13 years. All the while, I continued working on my art and comics.
Somewhere in the middle there, I began to visit New Orleans for shows and vacation and the city seduced me in a way no other place ever had. I started visiting multiple times a year, for several years, before I decided that I had to live and work here.
I'm happy that I did….
Now in my 3rd year living here, I am a senior character animator, making video games for Microsoft/InXile Entertainment and I've curated and exhibited work in several art shows all over town. New Orleans has provided everything I had hoped for and continues to surprise and amaze. I can't wait to see what happens next.
Carlos Mendieta is a New Orleans artist living and working in Marigny neighborhood.
www.carlosmendieta.com
NEW ORLEANS
Meet the Artists
Local art is the lifeblood of our culture and communities. We source work from hundreds of painters, muralists, sculptors, metal workers, printmakers, illustrators, photographers, and textile artists, every one of whom is part of your local community.

Create your Account
With an account you can save favorite works, create collections, send messages to artists, store your shipping info, and more
---
Already a member? Sign in here

;