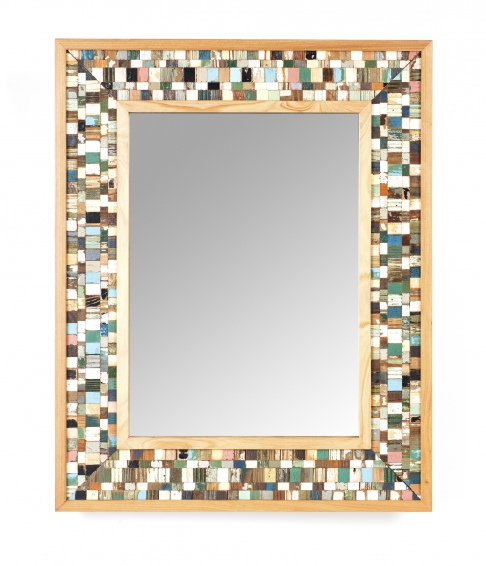 Bergeron Woodworks
Mosaic Mirror
2015
This mosaic mirror is a one-of-a-kind, handmade mirror that is crafted with reclaimed lumber remnants collected from our shop. Our goal is to create zero waste, so these are the last pieces that are patiently put together to create this unique design. The colors will vary in each mirror. Custom sizes are available, please send me a message.
Wood Reclaimed lumber salvaged in Louisiana by the artist
30" x 24"
Shipping cost: $0.00

Born in Marrero, Louisiana to an ironworker and seamstress, early on in life, I was immersed into a world of creative influences and the spirit of ingenuity. My grandfather was a self-taught carpenter, gardener, and outdoorsman, who built the house, he later raised his family in, as a teenager with little education.
Following my grandfather's example and forging my own path, I combined my love of Old World craftsmanship with a deep desire to make a dent in the waste stream. Utilizing ready supple materials from overflowing dumpsters from in and around New Orleans, in addition to the influence of southern folk, outsider, and tramp art styles, I created a style that juxtaposes tangible pieces of New Orleans history with fresh patterns and design.
In 1999, after some prodding from friends and family, I began marketing my work. Since, I have sold my work in various retail locations, galleries, art shows, and festivals. The majority of my work is custom designed furniture, which features a great balance to the stock line of frames and functional decor pieces, which I am constantly producing.
THIBODAUX
Meet the Artists
Local art is the lifeblood of our culture and communities. We source work from hundreds of painters, muralists, sculptors, metal workers, printmakers, illustrators, photographers, and textile artists, every one of whom is part of your local community.

Create your Account
With an account you can save favorite works, create collections, send messages to artists, store your shipping info, and more
---
Already a member? Sign in here

;