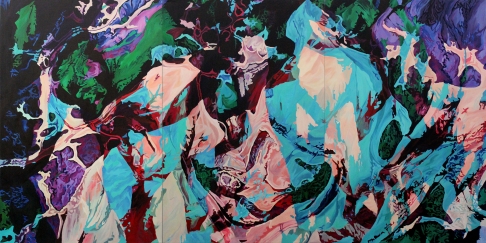 Reprise
2014
In this final piece of my series, there is a pursuit of humanity in the shapes that unfurl across the Earth's surface. A shadowed blue figure stands and in the foreground it's fractured and fleshy counterpart. By conducting shapes and colors provided by aerial imagery I was able to compose a piece that is a reflection of a state of inner turmoil. Like the Earth's surface, one will grow, be broken apart, sink, and rise. Our inner terrain like the grooves of a riverbed are riddled with scar tissue. The piece hangs all together at 6" x 12".
Acrylic and Gel Medium on Canvas
12" x 18" (3 panels of 4" x 6")
Shipping cost: $500.00

Anne Blenker spent her earliest years in Santa Rosa, California where she was informed by the natural beauty of the Pacific coastline. At 14 she moved to Lafayette, LA where she attended the Lafayette Parish High School Arts Academy program under teacher Kathy Reed. She then studied fine arts painting at Pratt Institute in New York City. After moving to New Orleans in 2013 she discovered a fascination with aerial topography. Her work draws on the ever-shifting contemporary landscape for inspiration, seeking to understand the processes and the changes they create. She has shown in New Orleans at Parse Gallery and Brand Gallery among others.

Instagram | @anneblenker
NEW ORLEANS
Meet the Artists
Local art is the lifeblood of our culture and communities. We source work from hundreds of painters, muralists, sculptors, metal workers, printmakers, illustrators, photographers, and textile artists, every one of whom is part of your local community.

Create your Account
With an account you can save favorite works, create collections, send messages to artists, store your shipping info, and more
---
Already a member? Sign in here

;