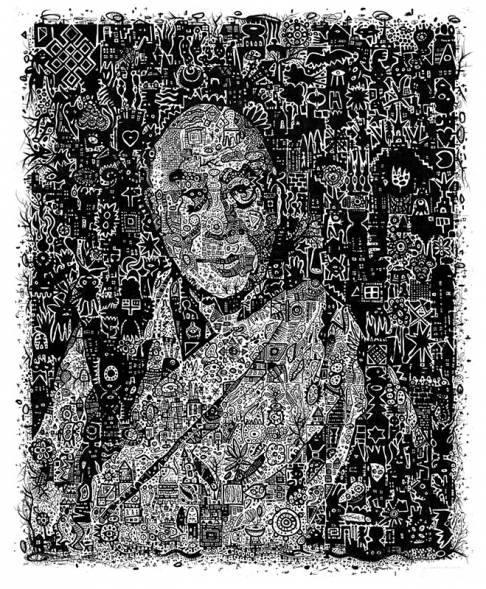 Clayhead Studio
His Holiness the Dalai Lama
2012
I start by mapping using a graphite pencil. I divide the image into different areas of value. The outlining process often demands multiple sittings to establish the image's proper foundation. Once I develop the undercarriage of the subject, I draw the image using Micron archival pens. This process overall requires up to three months of full-time drawing. This original is available as a 14" x 11" silkscreen print.
Ink and Graphite on Paper
28" x 20"
Shipping cost: $20.00

"Art is not the imitation of life, but life is the imitation of a transcendent principal with which art can put us back in communication." - Antoin Artaud (1896-1946)
My art appears as a journal of personally illustrated characters and symbols guided by intuition. These signs are often the depictions of monsters, machines, nature, home, and self. They evolve and branch from each other like the roots from a tree. The product is a live recording depicting the outward path of a single human spirit. I embrace the coincidence and its endless overlapping of metaphorical connections associated with my reality.
Greg Giegucz is a New Orleans artist living and working in the Warehouse District.
NEW ORLEANS
Meet the Artists
Local art is the lifeblood of our culture and communities. We source work from hundreds of painters, muralists, sculptors, metal workers, printmakers, illustrators, photographers, and textile artists, every one of whom is part of your local community.

Create your Account
With an account you can save favorite works, create collections, send messages to artists, store your shipping info, and more
---
Already a member? Sign in here

;