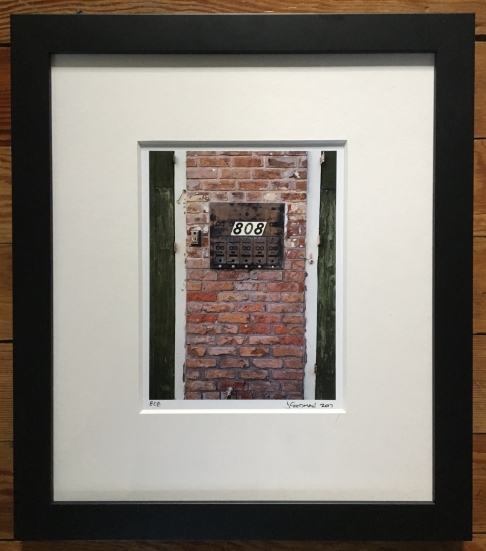 808
2017
Through photography, I have been exploring one's personal relationship to all things considers "home." This happens to manifest itself through images of mailboxes. Each mailbox box was photographed in the French Quarter of New Orleans.
Photography
17.5" x 14.5"
Shipping cost: $15.00

I was born in Shreveport, LA and received my Bachelor of Fine Arts (2005) from Louisiana State University. Thereafter, I was granted a Professional Printers Certificate (2006) from the Tamarind Institute of Lithography in Albuquerque, NM and later went on to earn my Master of Fine Arts (2010) from the San Francisco Art Institute. My use of layer and color arrangement, technique exploration, and constant reformatting of my work allow me to stay engaged in a project while creating an image that is completely satisfying. These essentials along with other conventional elements come together as the leading vehicle for translating my inner vision and relating it to the viewer.
While my abstract imagery has become synonymous with the mediums of printmaking and painting, my work stems from an extensive exploration of various techniques from these mediums.
Jono Goodman is a New Orleans artist living and working in the Freret area.
NEW ORLEANS
Meet the Artists
Local art is the lifeblood of our culture and communities. We source work from hundreds of painters, muralists, sculptors, metal workers, printmakers, illustrators, photographers, and textile artists, every one of whom is part of your local community.

Create your Account
With an account you can save favorite works, create collections, send messages to artists, store your shipping info, and more
---
Already a member? Sign in here

;