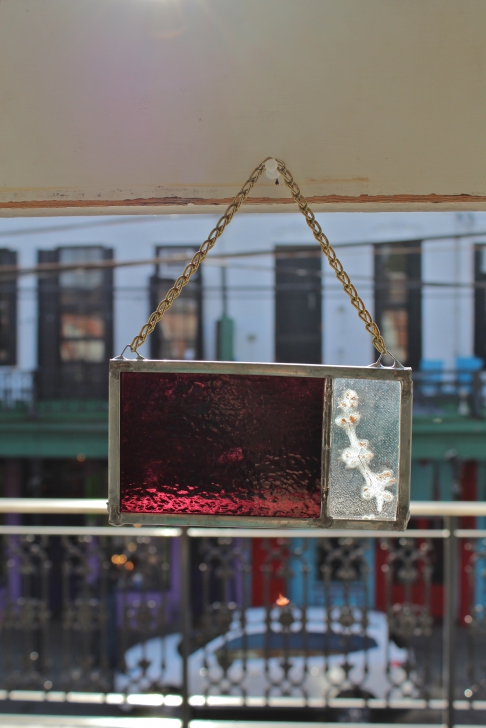 Paraph
Custom Small Enverre
2016
The plant detail of this piece is a sprig of oregano fused between two pieces of float glass in a kiln. This is paired with a piece of colored art glass. The work is intended to be hung, and looks especially beautiful back-lit in a window. PLEASE REQUEST PLANT/COLOR COMBINATIONS! This general size (approx 2" tall, 8" long) and design (two pieces of glass) can be custom-made for $45 each. Note: If you purchase this item, it will be made to order for you, as the original has sold. Slight variations between each version will occur, as they are all handmade by me without a pattern. Please allow two weeks for production before shipping. Any color of glass is available.
Oregano fused between float glass, stained glass, 60/40 solder, zinc frame, brass chain
2" x 8" approx.
Shipping cost: $10.00

I was raised in an old farmhouse in Maine, surrounded by plants, tools, animals, community, tumbling rock walls, and a decaying barn full of decades worth of friends' forgotten belongings. Those aesthetics translate well to the decay and growth of New Orleans; my work is at home here in the Deep South.
I run my restoration and design business, 'Paraph,' from my home studio in Uptown New Orleans. My business is dedicated to the rejuvenation of the stained glass trade by using traditional techniques inventively. I am passionate about plant medicine, cooking, gardening, story telling, and social justice. A career in art allows me to live joyfully. Pleasure, brought through inspiration and intellectual challenge, is a priority for me. I strive to share that pleasure with others through my sculpture.
My work is often either narrative or serves as a way to research new subjects. Through treatment of metal, wood, glass, clay and found objects, I explore the aesthetics of decay, vulnerability, and material and textural variation. In all of my work, I strive to blend patience with spontaneous decisions.
Please contact me about preserving wedding flowers (or any plant important to you) in glass, custom orders welcome! See more at caitlinwaugh.com and on instagram @caitlinezellwaugh
NEW ORLEANS
Meet the Artists
Local art is the lifeblood of our culture and communities. We source work from hundreds of painters, muralists, sculptors, metal workers, printmakers, illustrators, photographers, and textile artists, every one of whom is part of your local community.

Create your Account
With an account you can save favorite works, create collections, send messages to artists, store your shipping info, and more
---
Already a member? Sign in here

;