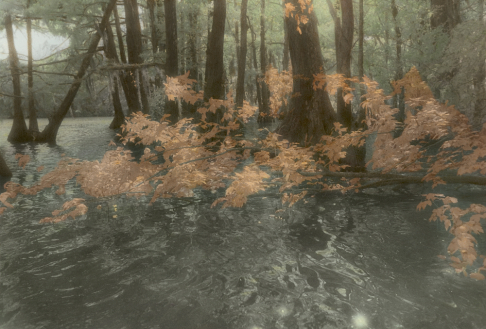 Tchefuncte River
I took this photograph while canoeing on the Tchefuncte River near Covington.
I used black and white infrared film to take this photo.  I then hand-tinted the original photograph using transparent oils.  This is a print of  hand tinted photograph.  Other sizes are available on paper or canvas.
Image size 12.5" x 18" on 16" x 20" paper
Shipping cost: $20.00

I grew up in Miami, Florida and graduated from the University of Florida. I then moved to New Orleans and that is where my interest in photography blossomed. In the late 80's, I started hand-tinting black and white infrared photographs using transparent oils. That technique became my recognizable style. I worked as a photojournalist, portrait photographer, and commercial photographer before 2003, but since then, have concentrated exclusively on fine art photography. My main subjects are trees and landscapes, and my style is often described as romantic peacefulness, dreamy and ethereal.
My photographs are displayed in many commercial and private collections across the country and internationally, including numerous hospitals and other medical settings, where they have a "healing art" quality. Until a renovation, my art was displayed in all the sleeping rooms and meeting rooms of the Loews New Orleans Hotel. My works are in the collection of the Roger Ogden Museum of Southern Art, the New Orleans Museum of Art, the Mobile Museum of Art, the Field Museum of Natural History in Chicago as well as having a One Woman Show, "Swaying Softly: Trees of the South" at the Ohr-O-Keefe Museum of Art in Biloxi, MS. I was one of 4 photographers, "Photos by Four" in a 2017 exhibition at the Ormond Memorial Art Museum in Ormond Beach, Florida and my photo is included in a new permanent exhibit at the Daytona Beach International Airport. I have won numerous awards, including "Best of Show" in the Bethesda Row Art Festival, Bethesda, Maryland.
Please visit my website, www.harrietblum.com to see more of my photographs.
COVINGTON
Meet the Artists
Local art is the lifeblood of our culture and communities. We source work from hundreds of painters, muralists, sculptors, metal workers, printmakers, illustrators, photographers, and textile artists, every one of whom is part of your local community.

Create your Account
With an account you can save favorite works, create collections, send messages to artists, store your shipping info, and more
---
Already a member? Sign in here

;