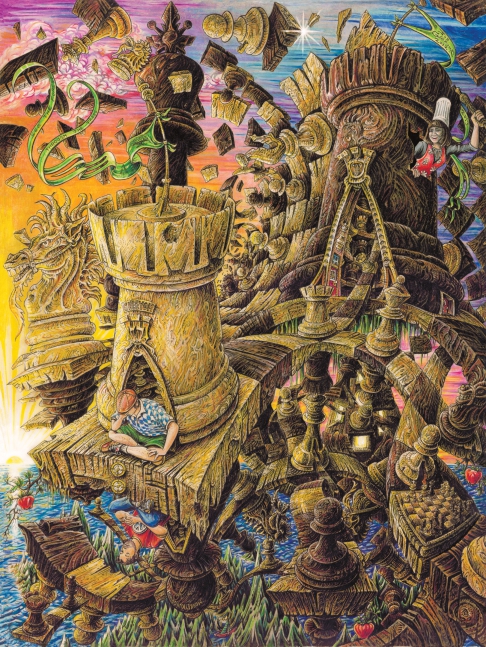 Wood Pushers
2013-2014
This is an abstract representation of myself playing a surreal chess game with my twin brother Ben. We've been playing chess since we were around 7 years old and as we get older it's something we both have an increasing interest in. In the drawing, the man with the brown "flat cap" is supposed to be myself, and straight below me, sitting upside down is Ben with his beard and a red Volkswagen shirt on. The whole piece is a whimsical chess game floating around us, with 2-speed clocks on the end of the platform between us to show the pressure is on. My wife Flore is in the top right window with her chef hat, yelling at us for wasting time again on the board. "Wood Pushers" is a term used to describe an amateur chess player. There is a small chess board towards the bottom right that is a game between the classic chess player of New Orleans, Paul Morphy, and his uncle.
Canvas giclee with gallery wrap - Original work in color pencil, ink and graphite on illustration board.
32" x 24"
Shipping cost: $30.00

I am from the small town of Slaughter, Louisiana. I pursued my artistic interest at Louisiana State University, and achieved a Bachelor's Degree in Fine Art, in the school of Graphic Design. While at LSU, I was employed in their in-house design center doing campus event design/artwork. While in college, I also worked in Betts Fine Art Gallery of Baton Rouge, where I learned museum quality custom framing, photo/canvas printing, and canvas stretching. After graduation I worked as a graphic designer and administrator for BIC magazine of Baton Rouge for 6 years, designing advertisements for Louisiana commercial industry, before moving on to sell my own artwork full-time.
In March 2006, I began truly pursuing my passion by selling my art at the French Market in New Orleans, as well as at other art festivals and exhibitions. In 2011 The ZULU Social Aid and Pleasure club selected my original design through a heavily juried process for their official Mardi Gras poster; it will be a celebrated collectible piece of New Orleans history.
Since I first started selling my art in New Orleans 10 years ago, I would go to the gazebo at Audubon Park by the pond to begin laying out large drawings. It's nice to be around all of the greenery, water, and a little wildlife... and it's right down the street. Normally there are not too many people on weekdays and I'm all by myself.
Jon Guillaume is a New Orleans artist living and working in the Freret area.
NEW ORLEANS
Meet the Artists
Local art is the lifeblood of our culture and communities. We source work from hundreds of painters, muralists, sculptors, metal workers, printmakers, illustrators, photographers, and textile artists, every one of whom is part of your local community.

Create your Account
With an account you can save favorite works, create collections, send messages to artists, store your shipping info, and more
---
Already a member? Sign in here

;