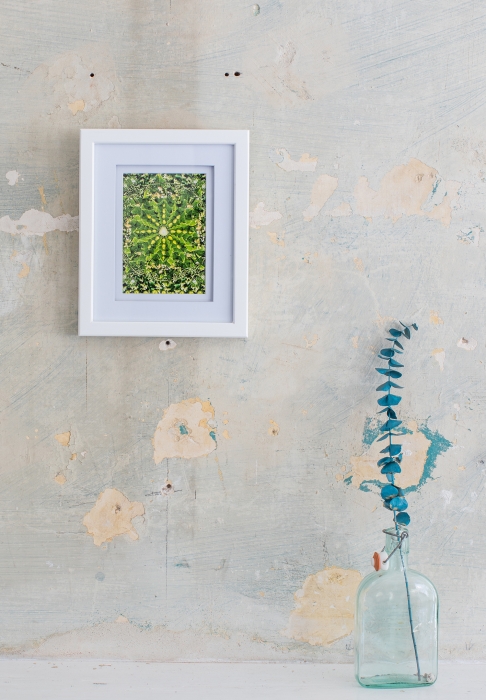 Mandala Mirliton Framed
2011
Mirliton Mandala is based on a traditional healing Tibetan mandala. I grew the mirliton in my backyard. It's commonly known as the chayote or prickly pear fruit. I photographed all the stages of the plant and then collaged them together.
Photography
10" x 8"
Shipping cost: $25.00

I am a Louisiana artist utilizing our ecosystem as my palette. I have been creating photographic nature collages for over 15 years. I utilize sacred geometry because I believe that all life forms from it. Within my photographic collages I convey the transformative and healing power of nature as well as themes of rebirth and reawakening. I have utilized nature to help heal myself. In Pollination I photograph living butterflies. The geometric mandalas can transport a viewer into another dimension within themselves. Pollination is all about breathing for healing. I believe you can meditate with these works and reach the 4th dimension. I encourage everyone to plant more wildflowers. My series Aphrodite at Alhambra are a reflection of self awareness and self love.
NEW ORLEANS
Meet the Artists
Local art is the lifeblood of our culture and communities. We source work from hundreds of painters, muralists, sculptors, metal workers, printmakers, illustrators, photographers, and textile artists, every one of whom is part of your local community.

Create your Account
With an account you can save favorite works, create collections, send messages to artists, store your shipping info, and more
---
Already a member? Sign in here

;