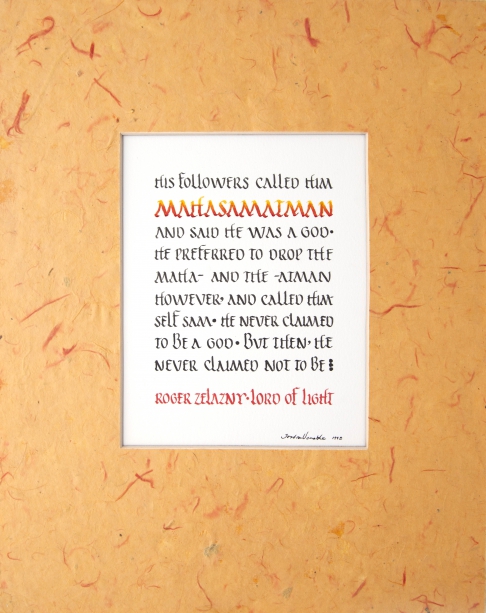 Mahasatman
1998
Both the flame-like shading of the letters on line 2 and the matching colors of the handmade-paper border allude to the source of the text. Roger Zelazny's Lord of Light weaves fiery demons, saffron-robed monks, and other Hindu and Buddhist elements into a science-fiction novel set on a distant planet some centuries in the future. Shipping included.
Ink and gouache on paper mounted with handmade paper over mat board
11" x 14" Matted
Shipping cost: $0.00

Calligraphy is, for me, the art form that best engages both sides of my dual identity, scholar/writer and visual artist. Calligraphic work marries words and images to convey a message that neither could alone. My use of letter-forms and decorative elements from medieval manuscripts allows me to combine scholarly rigor with artistic imagination and expression. My work is heavily influenced by many years of active participation in the Society for Creative Anachronism, where I found both an outlet for my developing skills and a community of like-minded scholar-artists. Today, my work is nurtured by New Orleans' respect for a tradition in hand-made objects, and by the love of bright colors that infuses not only its architecture, but its language and storytelling as well.
Sondra Venable is a New Orleans artist living and working in the Uptown neighborhood.
UPTOWN
Meet the Artists
Local art is the lifeblood of our culture and communities. We source work from hundreds of painters, muralists, sculptors, metal workers, printmakers, illustrators, photographers, and textile artists, every one of whom is part of your local community.

Create your Account
With an account you can save favorite works, create collections, send messages to artists, store your shipping info, and more
---
Already a member? Sign in here

;