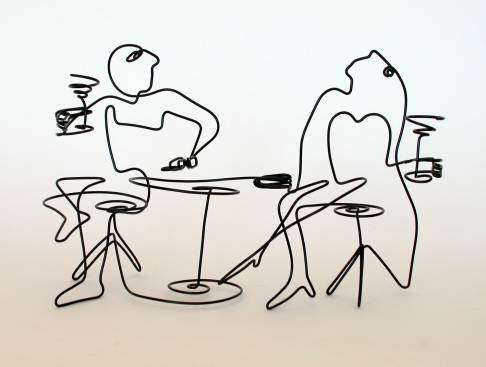 Line Art Gallery
The Toast
Continuous line wire sculpture
12 Gauge steel wire, paint
12" x 8" x 8"
Shipping cost: $20.00

My steel and wire sculptures are 3-dimensional drawings in space. Graceful and whimsical, my lyrical creations capture the subtleties of life and form in a single line.
Over the last 30 years, I've created works for public, private and corporate commissions including Spalding International, Louis Vuitton Asia, Alvin Ailey Dance Company, Abbott Vascular Europe, The Boston Children's Hospital, The Boston Symphony Celebrity Series and Stanford University.
I live and work in New Orleans and on Martha's Vineyard. I'm also the artistic director of Orpheus Wines in Sonoma, California.
NEW ORLEANS
Meet the Artists
Local art is the lifeblood of our culture and communities. We source work from hundreds of painters, muralists, sculptors, metal workers, printmakers, illustrators, photographers, and textile artists, every one of whom is part of your local community.

Create your Account
With an account you can save favorite works, create collections, send messages to artists, store your shipping info, and more
---
Already a member? Sign in here

;