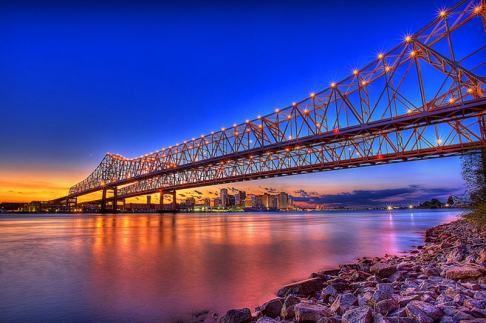 Zakem Art
Crescent City Connection
2014
The Crescent City Connection was the longest continuous truss bridge in the world when it opened in the 1950s. It is a beautiful structure that connects the East Bank and West Bank of New Orleans. In this scene, I used the Bridge to frame the Skyline of New Orleans.
This image was created using multiple exposure photography. It is available as a pigment based print on archival metallic photo paper, or a metallic gallery wrapped canvas.
36" x 54"
Shipping cost: $150.00

I left my native Florida for New Orleans in 2003, and I have connected deeply with my new Louisiana home. While studying at the New Orleans Academy of Fine Arts, I moved to photograph the vibrant action of New Orleans nightscapes, and have since created a growing body of work on this subject that defines me as one of the top rising contemporary artists.
A master of both digital shooting and printing techniques, I pursue images that resonate with the vibrancy I identify with the regenerative nature of this unique American city. Focusing on the beauty I see, my full color photography aims to function as visual signifiers of the positive energy that is the flip side of all of life's challenges. It is this positive, forward-thinking psychology that informs my images with their buoyant energy. Finding these positive visual metaphors in urban nightscapes lends my work a conceptual tension that is difficult to resist.
Prints from this series are in the New Orleans International Airport permanent collection. My images have been published through the Center for Fine Art Photography and I exhibit regularly in national juried shows, garnering vast critical praise.
I am a regular at Jazzfest, and my photographs can be found in Jackson Square on the weekends. Contact me to make an appointment to visit my studio at 3725 Dauphine St. Unit 115, New Orleans, LA
NEW ORLEANS
Meet the Artists
Local art is the lifeblood of our culture and communities. We source work from hundreds of painters, muralists, sculptors, metal workers, printmakers, illustrators, photographers, and textile artists, every one of whom is part of your local community.

Create your Account
With an account you can save favorite works, create collections, send messages to artists, store your shipping info, and more
---
Already a member? Sign in here

;