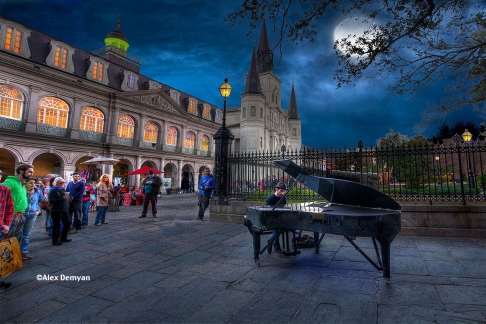 Moonlight Sonata
2014
I have seen a lot of strange things in my career photographing the French Quarter. I began following this fellow as he used his bicycle to tow a baby grand piano up Royal Street (with much difficulty). He set up here in Jackson Square where I was treated to a beautiful sonata and a truly unique photo opportunity. I hope his tips rewarded an extraordinary effort.
I custom print my images on an Epson P800 inkjet printer using Red River Ultrapro Satin Fine Art paper. Limited edition of 1000, signed and numbered.
16" x 20"
Shipping cost: $10.00

I am a full-time freelance photographer, specializing in digital photography in New Orleans.
Two distinct chapters divide my career. During my editorial phase, I had thousands of images published worldwide and was the featured photographer of local publications such as "New Orleans Magazine," "Where Magazine," and "Louisiana Life Magazine."
The focus of my career as a strictly editorial photographer was changed nearly overnight by two great tectonic shifts - the digital camera and Hurricane Katrina.
The decline in New Orleans tourism and conventions after Katrina collapsed the demand for both stock and editorial services.
Digital Photography likewise put into motion market forces that threatened the careers of many editorial photographers, but also bore the seeds of my rebirth as a Fine Art Photographer.
Today I produce photographs destined more for the frame and less the printed page. Software and an imagination unbounded by the strict limits of the editorial world have allowed me to take photography to a new dimension that is still believable and true to my roots as a traditional photographer.
Alex Demyan is a New Orleans artist living and working in Kenner.
KENNER
Meet the Artists
Local art is the lifeblood of our culture and communities. We source work from hundreds of painters, muralists, sculptors, metal workers, printmakers, illustrators, photographers, and textile artists, every one of whom is part of your local community.

Create your Account
With an account you can save favorite works, create collections, send messages to artists, store your shipping info, and more
---
Already a member? Sign in here

;