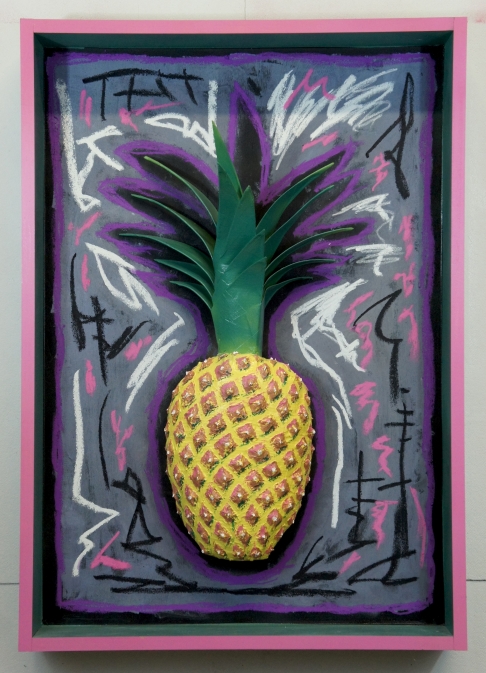 Giant Pineapple #1
2017
Pineapples represent peace to me in multiple ways. They are a symbol of hospitality, a concept which in its broadest interpretation means opening your world to accept others. Pineapples contain geometric patterns filled with the deep truths of the Fibonacci Sequence, and I believe mathematics is a universal language that transcends national and cultural differences and reminds us we all are more alike than different. I have made nearly a hundred small pineapple sculptural paintings, but these are the first Giant Pineapples. Personally, they represent my struggle to find my own identity, and shout as loud as I can about what I find--to not be small, to push myself further out there.
Mixed Media - Latex, Paper, Wire, Acrylic and Oil Pastel on Wood Frame
36" x 26" x 8"
Shipping cost: $0.00

I was born and raised in New Orleans, and at a young age I took interest in local art and culture. Leaving behind engineering scholarships at 19 to fully pursue my art interests, I soon booked my first exhibit in New Orleans showing colored-pencil sketches based on studies of Degas' dancers.
After these Degas' studies and many others of great artists, I began pursuing a new, self-taught method that formed into the sculptural-painting and collage techniques I use today. My works using these techniques have been shown in New York, New Orleans, and Oklahoma City galleries.
NEW ORLEANS
Meet the Artists
Local art is the lifeblood of our culture and communities. We source work from hundreds of painters, muralists, sculptors, metal workers, printmakers, illustrators, photographers, and textile artists, every one of whom is part of your local community.

Create your Account
With an account you can save favorite works, create collections, send messages to artists, store your shipping info, and more
---
Already a member? Sign in here

;