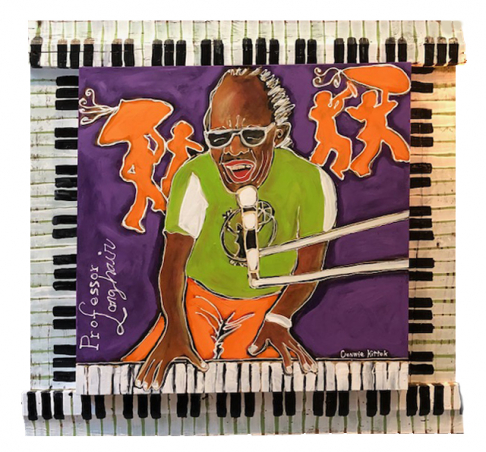 Professor Longhair
2018
Henry Roeland "Roy" Byrd (December 19, 1918 – January 30, 1980), better known as Professor Longhair or "Fess" for short, was a New Orleans blues singer and pianist. He was active in two distinct periods, first in the heyday of early rhythm and blues and later in the resurgence of interest in traditional jazz after the founding of the New Orleans Jazz and Heritage Festival in 1970. His piano style has been described as "instantly recognizable", combining rumba, mambo, and calypso.
Acrylic and oil tinted varnish on recycled wood
32" x 32" x 2"
Shipping cost: $200.00

I was born and raised in New Orleans with 35 years as a commercial graphic artist working for corporate companies throughout the New Orleans area. I received a Commercial Art degree from Delgado Community College. I've also studied at the University of Southeastern Louisiana and various artist workshops throughout Louisiana.
The subjects I choose to paint are usually subjects that remind me of my southern roots. The music, the people, the food, the cultures, etc. All that is New Orleans and its roots. I have what you might call an impressionistic style. I call it contemporary folk art with quick wide brush strokes and flashes of color, highlighted with gold leaf and raised texture. I am always trying to bring across my love for the southern area and it's people to my paintings.
Connie Kittok is a New Orleans artist living and working in the Uptown neighborhood.
UPTOWN
Meet the Artists
Local art is the lifeblood of our culture and communities. We source work from hundreds of painters, muralists, sculptors, metal workers, printmakers, illustrators, photographers, and textile artists, every one of whom is part of your local community.

Create your Account
With an account you can save favorite works, create collections, send messages to artists, store your shipping info, and more
---
Already a member? Sign in here

;