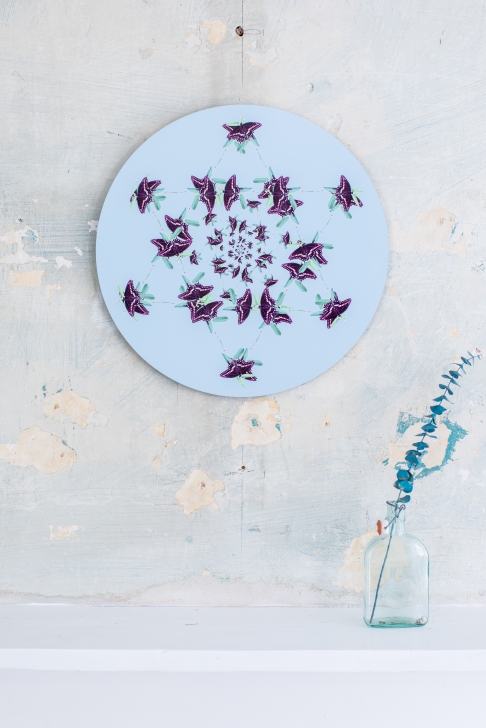 Medallion Swallowtail Star of David
2016
Star of David formed with Swallowtails
Dye infused Aluminum disc
20" x 20"
Shipping cost: $25.00

I'm a Louisiana artist utilizing our ecosystem as my palate. I've been creating photographic nature collages for over ten years. I utilize sacred geometry because I believe that all life forms from it. I also believe in the meditation power of sacred geometry to heal the soul. Within my photographic collages I convey the transformative and healing power of nature as well as themes of rebirth and reawakening. I have utilized nature to help heal myself. In pollination, I photograph living butterflies and bees. The geometric portals can transport a viewer into another dimension within themselves. Pollination is all about breathing for healing.
Muffin Bernstein is a New Orleans artist living and working in Lake Oaks.

NEW ORLEANS
Meet the Artists
Local art is the lifeblood of our culture and communities. We source work from hundreds of painters, muralists, sculptors, metal workers, printmakers, illustrators, photographers, and textile artists, every one of whom is part of your local community.

Create your Account
With an account you can save favorite works, create collections, send messages to artists, store your shipping info, and more
---
Already a member? Sign in here

;