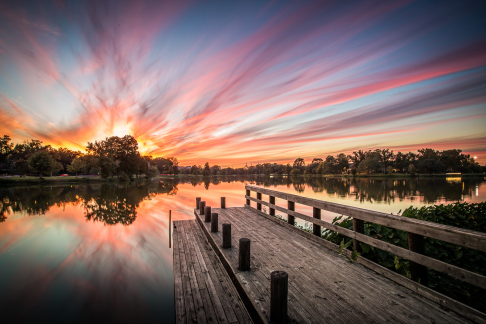 Radiant Sky
2013
Sunset at BREC's Milford Wampold Memorial Park at University Lake in Baton Rouge, La.
Unframed digital print on Kodak Professional Endura Premier Paper. 
16" x 24"
Shipping cost: $16.00

I am a Louisiana-based professional photographer shooting corporate, industrial and editorial assignments. I began my photography career in St. Charles, Mo. as a lost 18-year-old taking black and white pictures of driftwood along the Missouri River. I thought I should try earning a living shooting pictures so I went school, earned a degree and somehow landed a job in Baton Rouge. In Baton Rouge I worked as a photojournalist at the Advocate where I had a lot of fun taking pictures of cool people, beautiful places and sometimes tragic events. Nowadays I continue my photography career as a freelance photographer and while not on assignment I can be found paddling the bayous and waterways of Cajun Country or spending time exploring the beauty of Catholicism. Although, I have lived most of my life in Baton Rouge, La., I still have roots in the Midwest and I occasionally cheer for the wrong sports teams, but my Louisiana family seem to tolerate my lapse in judgment. Eventually, I hope to shoot less assignment work and get lost taking pictures of the waterways of South Louisiana. 
You can follow my journey on Instagram @timmuellerphoto or visit my website https://www.redstickstock.com
BATON ROUGE
Meet the Artists
Local art is the lifeblood of our culture and communities. We source work from hundreds of painters, muralists, sculptors, metal workers, printmakers, illustrators, photographers, and textile artists, every one of whom is part of your local community.

Create your Account
With an account you can save favorite works, create collections, send messages to artists, store your shipping info, and more
---
Already a member? Sign in here

;