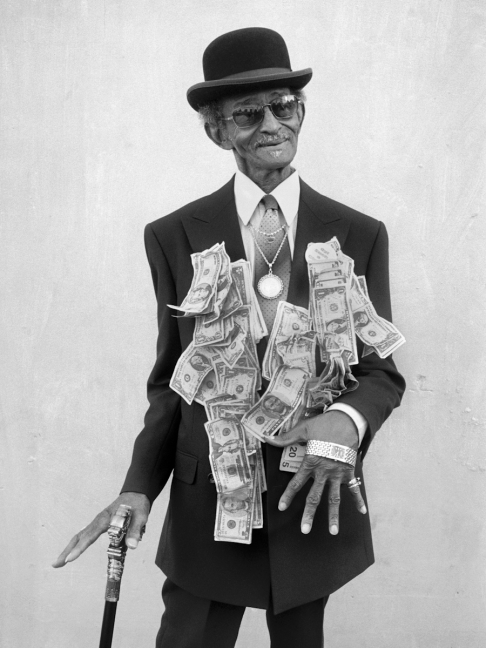 Uncle Lionel's Birthday Suit
2007
Uncle Lionel Batiste was a legendary New Orleans musician and personality. He was a bass drummer and singer for the Treme Brass Band, a fixture on Frenchmen Street and in the French Quarter, and was a world famous representative of New Orleans culture. When he passed away in 2011, musicians held commemorative parades every night for two weeks, climaxing with a massive funeral parade that was postponed mid procession due to a massive thunderstorm, and was only concluded the next day. At his funeral Uncle Lionel was viewed standing up, his traditional pose with his cane. This iconic image of Uncle Lionel was taken on his birthday in 2007 and is in the collection of the New Orleans Jazz and Heritage Foundation.
Unframed Museo Silver Print
30" x 20"
Shipping cost: $50.00

I am a transplant from New York City, and I've fulfilled a lifelong dream by moving to New Orleans in 2005. I was a Contributing Photographer at Life Magazine in the 80's, living in New York City and completing photo assignments all over the world. My work has appeared in Time, People, National Geographic, GEO, Stern, Paris Match, Newsweek, US News and World Report, New York Magazine, the Village Voice, Readers Digest, Sports Illustrated, Fortune, Business Week, Forbes, Graphis, Jazz News, Next American City, and the New York Times Magazine, as well as the cover of Popular Photography. My work on Coney Island was recently featured in the New York Times photography blog "Lens." In 2006 I was a finalist in the W. Eugene Smith Grant competition for a project on life at the edge of the world's oceans.
My mission is to capture the vitality of the human experience and to present it on paper in a visually compelling manner. As a photographer I work with daily life, ritual, and celebration within which I look for moments of insight or higher meaning. I seek to create iconic images that are immediately recognizable as illustrating an idea, a place, or an event.
Andy Levin is a New Orleans artist living and working in the Bayou St. John neighborhood.
NEW ORLEANS
Meet the Artists
Local art is the lifeblood of our culture and communities. We source work from hundreds of painters, muralists, sculptors, metal workers, printmakers, illustrators, photographers, and textile artists, every one of whom is part of your local community.

Create your Account
With an account you can save favorite works, create collections, send messages to artists, store your shipping info, and more
---
Already a member? Sign in here

;