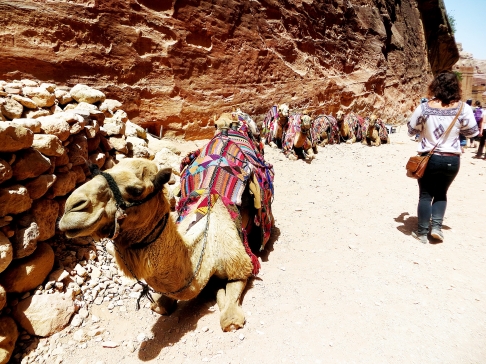 Camel Line
2016
This photo was taken in while I was exploring Petra, Jordan. Once home to the Nabataeans, Petra is now a UNESCO and tourist site. Camels line up as they wait for tourists to climb aboard for a ride. Most Jordanians who live in Petra have been there for generations. Camel (and horse) rides are one of the main ways they make their living. The contrast between the camel taking a rest and the girl walking by in Western clothes showcases the ancient versus modern world that is ever present in Petra.
Digital photograph printed on fine art paper Large glossy or lustre print -- print only (no mounting or matting)
12" x 16"
Shipping cost: $20.00

As a local New Orleanian and proud Uptowner, it's hard to not be surrounded by art from a young age. Photography, and art in general, has always been in my blood. My father and aunt were photographers, and several other members of my family are various writers, actors, musicians, and painters.
I graduated from Tulane University with a dual degree in Film and Digital Media Production, and worked in the film industry throughout college and a few years after graduating. I quickly grew disillusioned with the industry, so I decided to take a year break and focus on other things. That year turned into 3, but I continued to freelance during that time as both a photographer and videographer.
During that time, I was able to travel the world, and lived in the Middle East for some time. There, my inspiration really took off, and I realized my strength as an artist was in travel photography. I love experiencing new people and cultures and then bringing those experiences back with me via my photographs. I can expose people to other parts of the world they may not have the opportunity to experience for themselves. What's art, if not that?
NEW ORLEANS
Meet the Artists
Local art is the lifeblood of our culture and communities. We source work from hundreds of painters, muralists, sculptors, metal workers, printmakers, illustrators, photographers, and textile artists, every one of whom is part of your local community.

Create your Account
With an account you can save favorite works, create collections, send messages to artists, store your shipping info, and more
---
Already a member? Sign in here

;