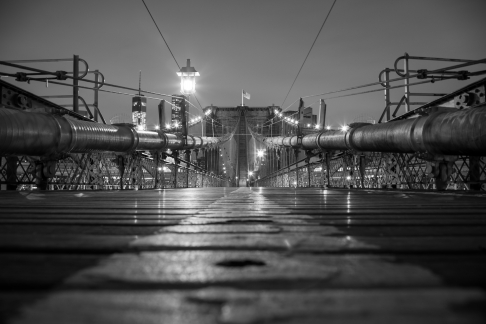 Clarity
2014
From: New York - City Series My heart may be in New Orleans, but my dreams are in New York City. There is something about the city that excites me - the architecture, the pace, the history, and the unexplored beauty. This image is the Brooklyn Bridge taken late at night on a walk back to Manhattan. It was one of those moments when all of your thoughts just became an instant. I love those moments.
Unsigned / Open Edition image printed on Kodak Professional paper
12" x 18" image size unframed
Shipping cost: $20.00

I am a simple man with complex thoughts, and I love to express them through art and photography. I was born and raised in the New Orleans area, but I love to travel anywhere life takes me. My main form of art is fine art photography. While I do portrait and commercial work, my true passion is discovering the beauty that remains hidden in the city around us. I love to just walk around the streets and see what calls out to me.
My Inspiration is LIFE - plain and simple. My passion is discovering the hidden beauty that surrounds us; whether it is the way a building ages and breaks down after a life well spent or the way a child smiles as it looks up at their parents. Beauty surrounds us everywhere, and sometimes we forget to look for it...so here I am to remind you. I love the feel of the city; New Orleans is where my heart is, New York is where my dreams are, everywhere in between is where I am. Living each day like it was my last and sharing my passion.
NEW ORLEANS
Meet the Artists
Local art is the lifeblood of our culture and communities. We source work from hundreds of painters, muralists, sculptors, metal workers, printmakers, illustrators, photographers, and textile artists, every one of whom is part of your local community.

Create your Account
With an account you can save favorite works, create collections, send messages to artists, store your shipping info, and more
---
Already a member? Sign in here

;