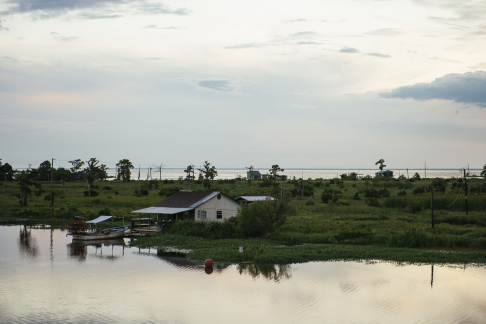 Crabber's House
A "working" camp in Manchac between the shores of Lake Maurepas and Lake Pontchartrain. 
Archival Giclee Print from Digital Photograph 
24" x 36"
Shipping cost: $0.00

I was born and raised in the Western half of the beautiful state of Kentucky. I migrated to Louisiana about ten years ago at the urging of my dear friend who was raised in a magical little Cajun village. As a story teller, Louisiana was beyond inspiring. I remember spending my first Easter in the swamp by Vermillion River for a crawfish boil, we paddled out into the cypress trees in dark green pirogues before getting lost in a rain storm. I made one of my favorite photos to date while we were lost out there. The people and landscapes here continue to inspire my work. Today my work is a mix of film and digital photography from personal projects and magazine assignments and it is almost all centered around the my own need or my client's need to tell a story. I've taken up sailing and rowing traditional boats to explore in an effort to be more aligned with traditional craft and get further away from plastics and big oil. 
NEW ORLEANS
Meet the Artists
Local art is the lifeblood of our culture and communities. We source work from hundreds of painters, muralists, sculptors, metal workers, printmakers, illustrators, photographers, and textile artists, every one of whom is part of your local community.

Create your Account
With an account you can save favorite works, create collections, send messages to artists, store your shipping info, and more
---
Already a member? Sign in here

;